A lot of women, especially those who have never been to Morocco ask this question: is Morocco safe for female tourists?
The answer to this question is: Definitely, Morocco is safe for female tourists. However, it is very important to shed light on some aspects of Moroccan culture and the way you make your travel to Morocco unforgettable.
Is Morocco safe for female tourists?
Traveling in Morocco alone is safe. Of course, traveling anywhere never provides the same safety guarantees, but some countries are safer than others. Morocco is considered to be safe more than some of the developed countries. For example, violent crime is much less common in Morocco than in the United States. In addition, Road conditions are generally safe for traveler.
As far as tour operator drivers, respecting the Highway Code is a must. Finally, you can find "Tourist Police;" a sort of Moroccan security force dedicated to ensuring the safety of foreign visitors. This police is located in the big Morocco cities and you can contact them if you have any problems.
Female tourist challenges in Morocco.
In fact, it is better to talk about Moroccan cultures instead of talking about one Moroccan culture. The culture in the North of Morocco is dissimilar to the culture in the south. Similarly, the culture in big cities is different from the culture in the suburbs. Therefore, this variety can affect female tourists in Morocco.
Morocco Cities Culture
In big cities, most women wear modern clothes like jeans and T-shirts. However, in some cities like Casablanca, Marrakech, Agadir, and Rabat, they can wear more exciting clothes. People there are more open and girls follow the same style as Europe and the United States. Unlike these cities, Fez, Tangier, Chefchaouen, Meknes, and Essaouira tend to be more conservative. Therefore, wearing more exciting dresses can draw more attention.
In the Sahara desert, people frequently meet foreigners. Consequently, wearing attractive clothes won't be a problem. However, it is best to be somehow moderate to avoid unexpected behaviors.
Female tourist precautions
As we discussed before, Morocco is safe for female tourists. However, it is important to be in harmony with Moroccan cultures. And here, we give you some advice.
 Avoid hanging out alone at night and walking in remote areas. Moroccan not used to see women after 23:00 alone. However, if it happens, just take a Taxi.

Wear dark glasses to help you avoid eye contact.

Catcalling is a persistent challenge, especially for young women traveling without a male partner or a child. Consequently, wearing more conservative attire can draw less attention. (Most catcallers don't do this behavior for the sake of disturbing female tourists, but to find a Western wife. Many Moroccans tend to favor European or American girls over Moroccan women. This is why female tourists receive more attention than the local women. In addition, the difference in the attitudes of seduction makes seduction turned to be harassment)

A wedding ring can also help you avoid unwanted attention.

marriage proposals are very frequent in Morocco. a smile and "No, thanks" will be received with a corresponding smile.

Smoking is often considered unacceptable for women. However, you can smoke in some places like some restaurants, Riads, Hotels, Cafés, and streets of big cities. Outside the big cities, it is not adviced.

Drinking alcohol is not accepted publicly. However, there are some restaurants that provide alcohol. You can also ask for it at your hotel. In Ramadan, the month when Muslims fast, Alcohol won't be served.
female tourists experience in Morocco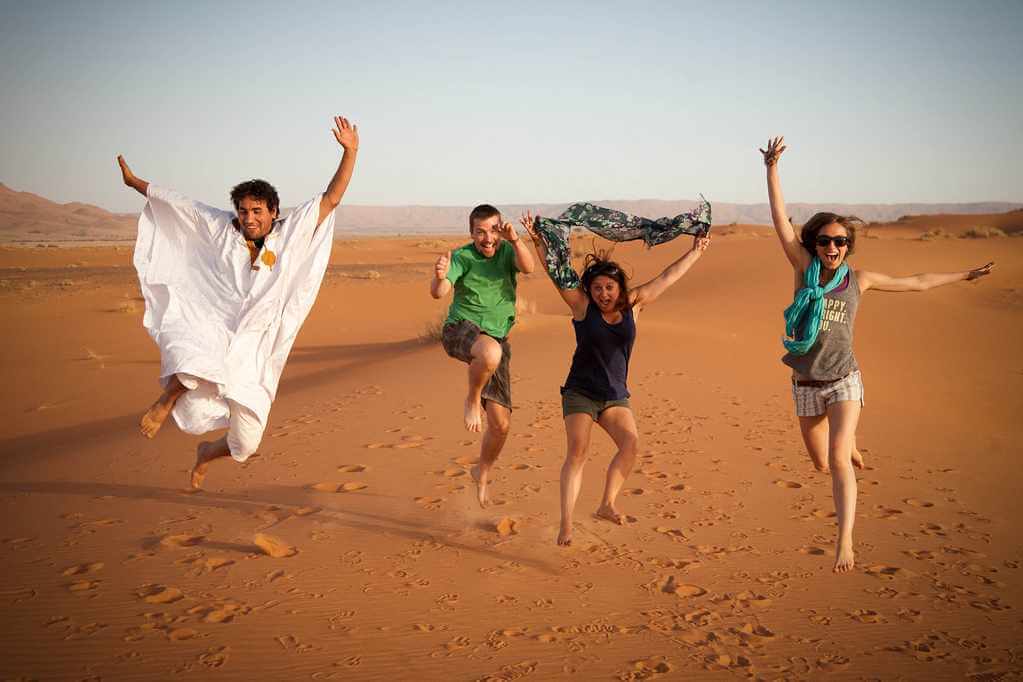 female tourists in the Sahara desert-Morocco Travel
The advice above help you have the best experience in Morocco. However, don't spend your time hiding behind the walls. Be adventurous and make the best of your travel to Morocco. Moroccans are world-renowned for their hospitality, and—on the whole—are very eager to share their culture with visitors. They are very sociable and welcoming people. If you meet locals outside the big cities, you will discover the true heart of Morocco.
Is Morocco safe for female tourists? Yes, indeed, and many women who have organized tours with Morocco Travel expressed their love to this country and its people.