If you long to visit the Sahara desert and trek with camels as you watch the mind-blowing sunset over the horizon, then the Morocco desert tours from Casablanca are for you.
Visiting the Sahara desert is a once-in-a-lifetime experience that you don't want to miss. Mountains of sand dunes, big rock canyons, vast oases, and mud-walled houses reflect the charm of the desert, not to mention the magic of Berbers and the hospitality of Moroccans.
By traveling to the desert from Casablanca, travelers will have the chance to experience camel trekking, sunsets and sunrises, camping under the starry sky, and maybe even see the shooting stars!
In addition, one will experience enticing history, warm culture, welcoming locals, and delicious food. This place is colorful, mythical, and ethereal. What else can a tourist ask for?
However, traveling to such an electric and grand place can be overwhelming. One can't opt to wing it with so many places to discover. We are here to help you.
Undertaking numerous tourist reviews and local intel, we have put together Morocco's best trips to the desert that you can take from Casablanca. Before you soak up Morocco's charming imperial cities on horse-led carriages or drool on Moroccan pastries, please go through our guide to make the best of your time and money.
Note: Are you confused about planning your Morocco trip? Please sit back and let us do all the heavy work for you. Our team of travel experts, along with trusted local insiders, design 100% authentic, hassle-free, and customizable experiences to fit what our clients demand and desire.
Why You Should Explore the Sahara Desert of Morocco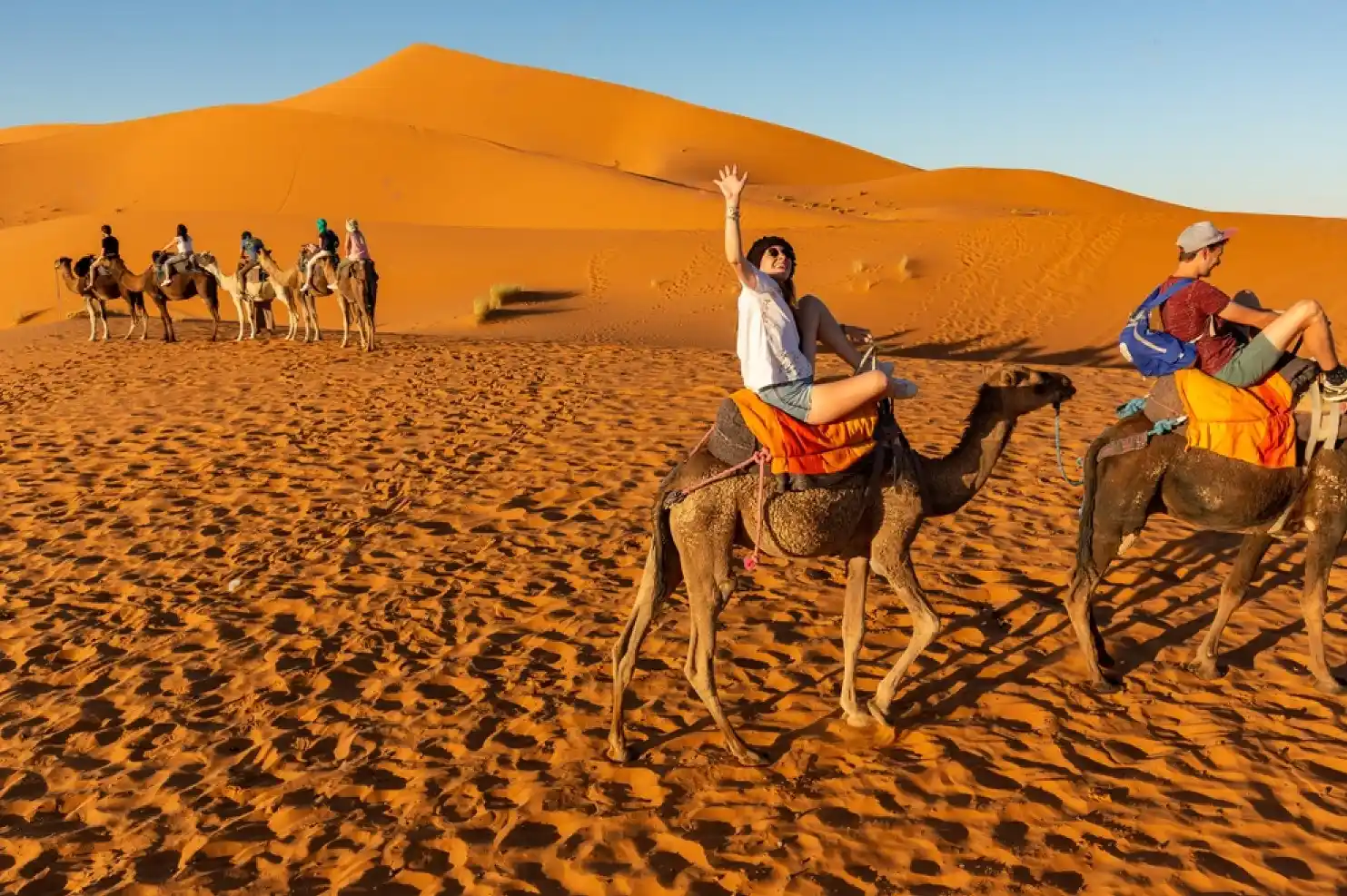 Exploring the Sahara desert from Casablanca is very common as many travelers land in this city since it holds the largest airport in Morocco. Many travel operators schedule tours from there to the desert on a regular basis. The tours are all-inclusive, tourist-friendly, and cost-effective.
Tourists are attracted to Morocco by the light, the colors, and the harmony of its traditional architecture. It is a bustling tourism destination sporting a blend of old and new in perfect harmony. Tourists love its enchanting charm and panoramic views for all the good reasons. 
The country boasts a mix of old European elegance, Islamic imperial grandeur, and endless diversity. The European influence on the Arabic and African blend is evident in large cities, particularly Marrakesh, Casablanca, and Fes. These cities are lined with monuments standing for millennia, Persian-style art galleries, and Islamic palaces.
Book your tour to the land of dreams
Morocco desert and camels
UNESCO has declared Fes a World-Heritage site. It is also referred to as the Mecca of the West. Marrakesh is the gateway to the Sahara and boasts a well-established Mediterranean culture. Casablanca is a crucial productive, and financial city titled the New York of Morocco. The blue city of Chefchauen, with the walls painted in electric blue color, seems to be of another world.
When you read all that, you find it logical why many prize-winning Hollywood movies have been filmed in Morocco. Regardless of its contradictions, it remains a charming country that stimulates the fantasies of the west, especially when we talk about magic and exoticism. 
What's more, Morocco ix the gate to the biggest desert in the world. In Merzouga, you will see things you have never seen before. It's for sure you fall under its spell.
During your visit, you will experience the following:
Camping in the desert and trekking with camels

The 2nd most "Instagrammed" Game of Thrones Site, is Ait Benhaddou.

Strolling into the cinema studio of Quarzazate

Hiking in the high Atlas mountains

Meeting locals and enjoying Berber food and music
With that being said, all desert tours from Casablanca are created by a local guide; that is to say, you will see places other tourists can't reach.
The Best Time for Morocco Desert Tours From Casablanca
Morocco has been described as a cold country with extreme heat. In fact, its climate, although undeniably hot in summer, is extremely varied, and some regions can be quite cold.
The pre-Sahara and the desert are subject to desert conditions; scorching hot temperatures during the day and bitter cold at night.
Morocco desert tours from Casablanca are the highlight for so many tourists, but the best time to book this tour is from March to May and from September to December as the day temperature ranges from 59 °F (15 °C) to 84 °F (29 °C). Some tour locations include the hottest places in Morocco, which are extremely hot during the summer period; the day temperature ranges from 107 °F (42 °C) or even further.
Hence, it's important to note that spring and autumn are the peak seasons in Morocco. This period also witnesses a drop in ticket prices, which makes it the perfect time for desert tours.
Best Morocco Desert Tours from Casablanca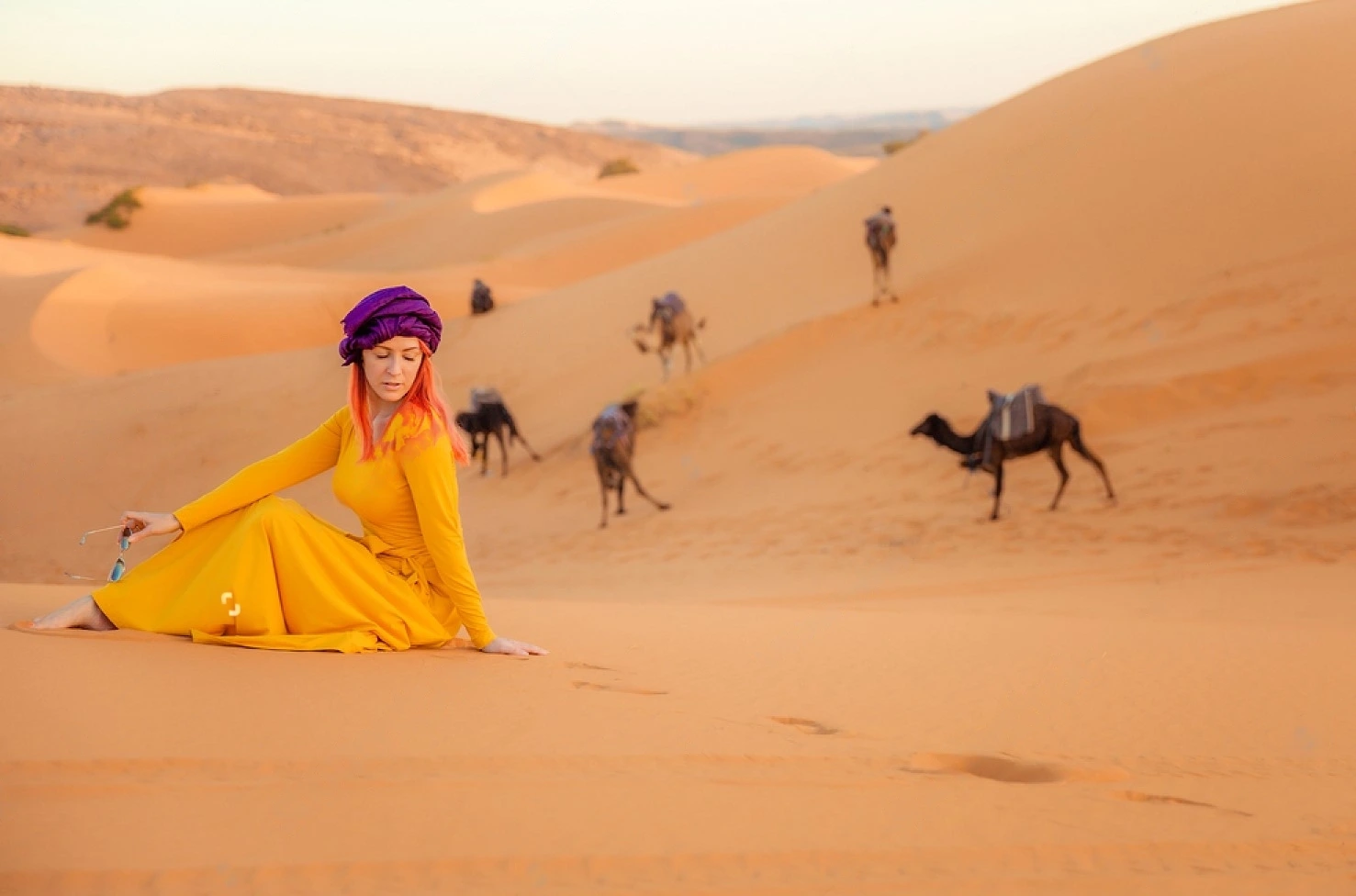 If you're seeking the Best Morocco Desert Tours from Casablanca, you've come to the perfect place.
Tourists from all over the world come to experience Morocco's striking landscapes, from the bustling streets of Casablanca to the stunning Sahara desert dunes. There is nothing to miss.
Morocco is known as a land of contrasts, colors, fascinating scenes of daily life, and the magic of the night sky in the Sahara desert.
The desert offers a truly magical experience. A true sight to behold when the day ends, and the colorful spectacle begins; the desert begins to unfold its full calm and enchanting power.
Are you ready to discover the desert? We have put together some of the best tours that you can book from Casablanca. All of them include the beautiful desert.
15-day Desert Tour From Casablanca
The 15-day desert tour from Casablanca is one of the best Morocco desert tours from Casablanca. It allows you to experience the Sahara desert and all the best attractions that Morocco has to offer.
You'll get to spend 4 days in the desert as you discover in-depth some of the unknown places with your local guide. You will also see other destinations like Taroudant, Agadir, and Essaouira that are not included in short-term itineraries.
This tour is all-inclusive, and it includes all the best destinations:
Casablanca and its landmarks

2 days in Marrakech, one of Morocco's leading travel destinations known as the red city and the gateway to the Sahara desert.

2 days in Fes; the maze medina of Morocco

The mind-blowing sunsets and sunrise views in the desert.

4 days for experimenting with the charm of camels, camps, epic architecture…etc.

The Drâa valley, Dades gorges, and Ouarzazate. Also, visiting Many picturesque villages of the Atlas mountains, including Ait ben Haddou.
14-Day Tour From Casablanca
The 14-day tour includes all the major attractions in Morocco from Casablanca and all the big cities of Morocco. It is similar to the 15-day tour with the exception of two locations, the Dades Valley and Taroudant.
On the 14-day tour, these two destinations – the Dades Valley and Taroudant– are visited in one day; however, on the 15-day tour, this itinerary is divided.
With this tour, you are not only going to see the heart of Morocco but also live the experience.
Similar to the 15-day tour, this tour also includes Agadir and Essaouira.
12-Day Tour From Casablanca
Another best Morocco desert tour from Casablanca is the 12-day tour as it includes the best tourist locations in Morocco.
It's perfect if you want to spend enough time in Morocco and discover its culture.
During this tour, you'll spend 8 days discovering places and enjoying locations. The remaining 4 days will be devoted to traveling between cities.
The 12-day tour from Casablanca highlights are:
1 day and a half in Chefchaouen

2 days in Fez

3 days of adventure in the desert, enjoying camel trekking, camping, and a lot of other activities

1 day in Marrakech with a tour of Jemaa el Fna square and the winding street of old Medina

1 day in Essaouira

Visiting all of the Game of Thrones locations in Morocco

Strolling in exotic markets and old souks
10-day Desert Tour From Casablanca
The 10-day desert tour starts in Casablanca and ends in Marrakech. It is one of our popular tours as it suits people who are looking for a short break to Morocco.
This tour allows you to explore Morocco at your own pace. You will see some of the most beautiful attractions, and you will enjoy many of the beaten paths with your local guide.
The tour includes the following :
2-day walking tours with a guide in Marrakech and Fes

Camel ride and camping in the desert of Merzouga

Visiting Imperial cities like Marrakech and the wings street of old Medina

Exploring the souks of Morocco

Visiting the Roman Empire ruins at Volubilis Meknes

Visiting Fes, Meknes, Casablanca, Chefchaouen, and Rabat
7-Day Tour From Casablanca
The 7-day tour from Casablanca covers all 4 imperial cities of Morocco and the Sahara desert. Most travelers to Morocco like to discover the culture of Morocco and enjoy adventures in the desert. This tour offers all this in a very short time.
The tour's pace is moderate, which means you will spend enough time in each attraction. You will also enjoy, discover, and meet locals.
The 7-day tour does not include Essaouira and Chefchaouen. The highlights are:
Day 1: Casablanca to Fez via Rabat and Meknes

Day 2: Fez Guided City Tour

Day 3: Fez to Merzouga via Ifrane and Azrou

Day 4: Merzouga to Ouarzazate

Day 5: Ouarzazate to Marrakesh via Ait Benhaddou

Day 6: Marrakesh City Tour

Day 7: The End of 7 days Morocco itinerary
Explore Morocco safely (wide range of tours)
Discover the Imperial cities and the desert
Customize Your Desert Tour From Casablanca
Everyone has their own unique tastes and desires, so we offer customized tour service that allow you to design your trip and decide your tour locations at no additional cost to you.
We'll help you schedule your itinerary and create an unforgettable best tour to Morocco for you.
Here are key sites visited by Morocco tourists:
The desert – offers a truly magical experience. A true sight to behold when the day comes to a close and the colorful spectacle begins to unfold its full calm and enchanting power. 
Merzouga is popular among tourists and known as the gateway to Erg Chebbi. There are many short tours that start from Marrakech to Merzouga in case you don't have enough time in Morocco.
Essaouira's home to tiny art galleries, boutiques, and a bustling contemporary café and restaurant scene.
Casablanca, Morocco business center with a cosmopolitan and active population and gourmet restaurants
The imperial cities of Rabat, Fez, and Marrakech featuring old palaces, mosques, and winding covered alleys, scarcely changed over the centuries but still exercise a fascination over visitors.
Roman ruins of Volubilis, Lixus, and cotta still evoke their glorious past.
The Drâa valley, Dades gorges, and many picturesque villages of the Atlas mountains, including Ait ben Haddou.
Looking for the Best Morocco Desert Tours from Casablanca can always be challenging; however, we know Morocco better than anyone else, and we will provide you with your dream trip. Just contact us, and one of our specialists will get in touch with you.