Are you looking for the best holidays to morocco from Scotland? Her we save you time!
We will present all the necessary information related to your traveling from Scotland to Morocco. That includes when to travel, flight tips, and Morocco tours.
Camels, desert dunes, nomadic life, and snake charmers – Morocco embodies the exotic in the real sense of the word. Yet, it is only 1787 miles from Scotland. The flight time ranges between 5 and 8 hours.
With many flight options available, holidays to morocco from Scotland become a luxury.
Similar article: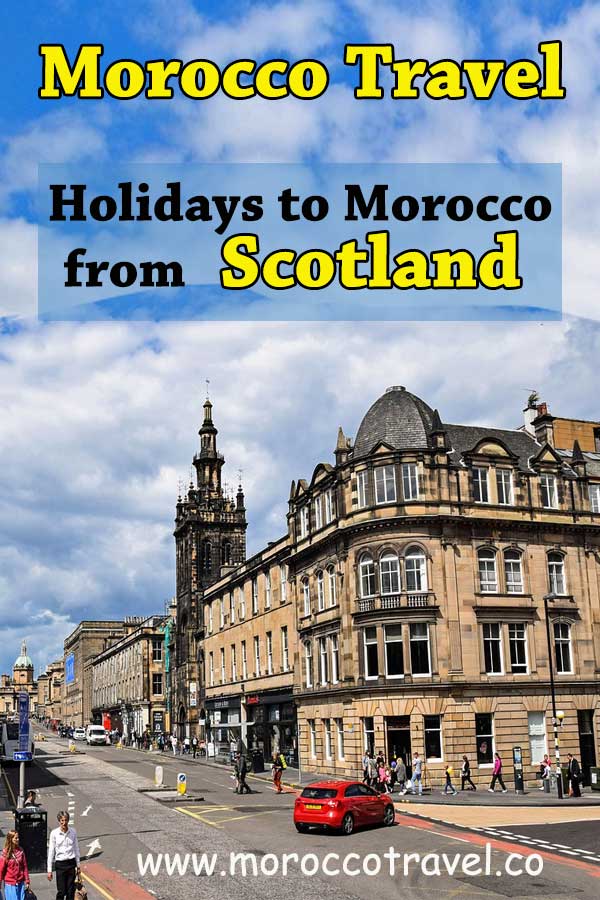 Enjoy the Best holidays to Morocco from Scotland.
When to Travel to Morocco
In fact, there is no bad time to holiday in Morocco. The country is diverse with something for all kinds of travelers.
Generally, the best time to go to Morocco ranges between April and May or September and November, spring or autumn seasons. During these seasons, the climate is neither too hot nor too cold.
However, if you plan to trek the Atlas Mountains or surf the waves on the Atlantic coast, you may find that other times suit you more.
Spring is perfect for walking and sightseeing. However, summer is unbearably hot in the desert and old cities like fez and Marrakech. The perfect destination then is the Atlantic coast for swimming and sunbathing.
During the winter, The temperature remains mild over the south of Morocco. However, snow covers the peaks of Atlas mountains and remains for 2 or 3 months.
If you are planning to visit the Sahara, Marrakech, Fez, Chefchaouen, try to travel during spring or autumn. If you like beaches and mountains, summer will be your perfect season. However, if you want to escape the cold weather of Scotland during winter, Marrakech and the south of Morocco will fit you perfectly.
Indeed, there is no bad time to travel to Morocco, Best holidays to morocco from Scotland are available during the whole year. What matters more, is your what experience do you want to live in Morocco.
Flights to Morocco from Scotland.
Amazingly, there are 9 ways to travel from Scotland to Morocco. We all know about planes, but many of us ignore trains, buses,  cars &ferries.
Traveling by train takes up to 36 hours, but buses take more than 2 days.  Unless you want to visit some other European cities, planes constitute the best option as they save you time and energy.
Flights between Morocco and Scotland are numerous. Many airline companies organize flights between the two countries. That includes Ryanair, Air Arabia Maroc, Royal Air Maroc, Air France, Vueling Airlines, and easyJet.
These Airlines connect Edinburgh to 4 different Moroccan cities.
You can check also: Flights to Morocco from Scotland, we discuss the flight to 3 main cities, namely Marrakech, Fez, and Casablanca. Also we present different ways of airport transfer.
a. Flights from Edinburgh to Tangier
There is a flight every 4 hours from Edinburgh to tangier. Therefore, tangier constitutes the best city to start your holiday in Morocco. The flight takes from 5 to 22 hours and often include one-stop. It takes 5h 25m if you travel via Madrid and Amsterdam, and 7h 30m if you travel via Sevilla. The price range between 170€ and 600€.
b. Flights from Edinburgh to Rabat
Flights to Rabat take up to 6 hours. The price range between 300€ and 450€ and often make a depart at 6, 7, 11, and 14. Several flights are organized each day and you need to book the best one based on flight time and duration. Some can last up to 20 hours. So make sure to check the duration before you book.
c. Flights from Edinburgh to Casablanca
Casablanca is the hot spot of Morocco. It is not only the economic capital, but also the place from where the major tours of Morocco start.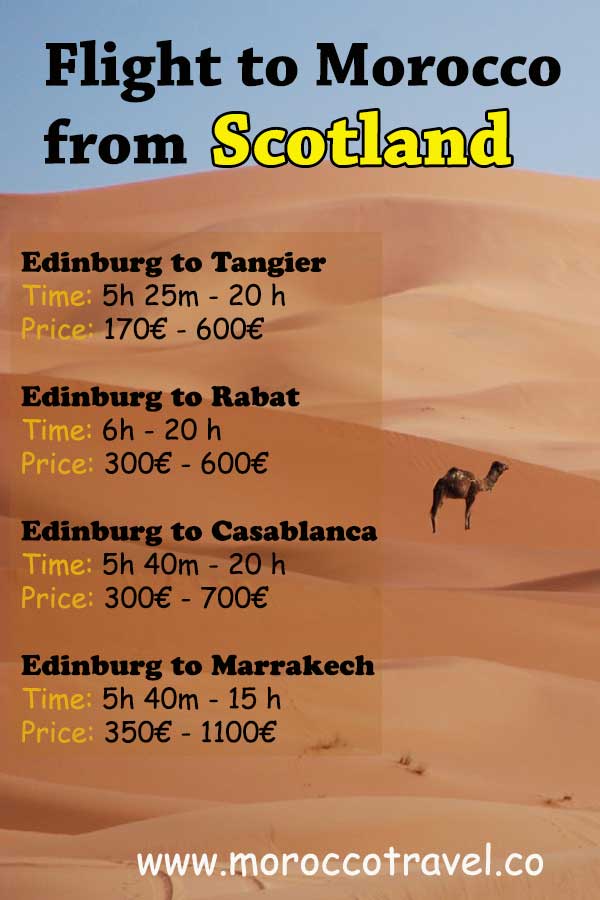 Check our tours that start in Casablanca
The best holidays to morocco from Scotland start for sure in Casablanca as there are extensive flights that link it to Edinburgh. The fastest flight takes 5h 40m but some flights can last up to 20h. Regular flights usually include one-stop and the price varies according to the season. Generally, it ranges between 300€ and 600€.
d. Flights from Edinburg to Marrakesh
Like other Moroccan cities, flights to Marrakech are extensive. Marrakesh constitutes the best option for travelers who want to spend a short holiday in Morocco. In addition, it is perfect for those who plan to visit the Sahara desert. Flights last up to 5h 40m and the general price starts from 350€.
Visa for Scottish citizens
Generally, UK citizens don't need a visa for holidays in Morocco. That includes also Northen Ireland people traveling with a British passport.
However, an exception is made for UK travel document holders. If their country of origin is not listed among the visa-free countries allowed to enter Morocco, they need to apply for a Visa.
Applicants on any kind of UK travel document need a visa to enter Morocco even if married to a British citizen traveling with them.
Best Holiday deals to Morocco
Once you are done with you planning, now it's time to choose your best holiday deal.
Holidays to Morocco from Scotland will be amazing if you managed to organize your holidays as you wish. We offer Myriad Morocco Tours, but we are aware of the fact that they won't suit all kinds of travelers. Therefore, we offer the service of customizing tours without any extra cost.
Other services include booking hotels, guides, cars with drivers, and organizing tours around Morocco. We take every small detail into account and we are keen to provide high-quality service.
To check our tours, please click below
"You [Scots] come of a race of men the very wind of whose name has swept to the ultimate seas." J. M. Barrie