Is it Safe to Travel to Morocco Right Now? Many tourists ask this question since the country is located in North Africa. Here we present some facts about Morocco.
Morocco is the land of cultural diversity and the home for touristic wonderers. Its delightful charms renders you in owe. Morocco is home to charming ruins and a vivid history, pristine beaches that'll make your summer time a bless, enchanting palaces and places for which photography might become your new favorite hobby, and of course the ever so exotic and vivid Medinas. All parts of Morocco make the country a pleasure to explore; however, you might still have certain doubts "Is it Safe to Travel to Morocco Right Now?"
Though Morocco is a Muslim country with a rich mix of Amazigh and Arab cultures (very different from EU indeed), it is just as safe as America, Europe, or even Canada. It's how you travel that counts. In this article let's take a look at some safety issue concerns you might have and let's uncover the typical question: Is it Safe to Travel to Morocco Right Now?
1- Morocco Travel Safety Rankings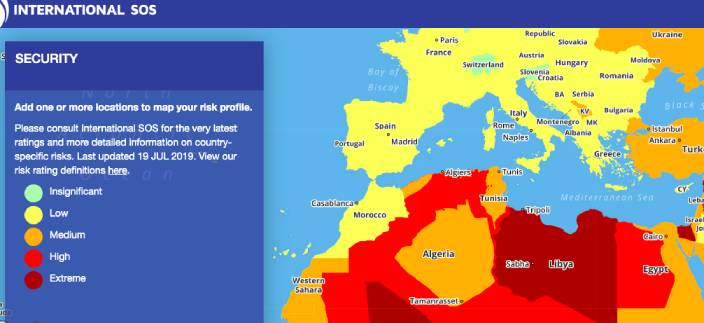 Travel Risk Map- Morocco Travel .      Website
According to the 2019 Travel Risk Map Morocco is viewed as a highly safe country to travel to. Travel safety wise, Morocco is as safe as most European countries, the US, and Canada according to the study. You can walk and discover the country, the beautiful alleys, the great souks and medinas, all with a great peace of mind.
Morocco just like any other country is safe to travel to and discover. If you are a hunter for pleasurable moments and great sights, Morocco should be your first travel destination.
In addition to Travel Risk Map, many governments perceive Morocco as a safe country, one of which is UK. In the Gov.UK, it is stated clearly that "Almost 700,000 visitors from the UK come to Morocco every year. Most visits are trouble-free." Tourists in Morocco don't generally face troubles; except in some situations like terrorist attacks. However, the risk is very low since we witnessed only two attacks in the last ten years. Technically speaking, as far as ISIS is concerned, Morocco is safer than some European countries like Belgium and France.
2- Political Stability in Morocco
In the last three to five years, Morocco has managed to keep a great deal of stability and safety in the midst of the political turmoil in the neighboring areas in Africa or even the Arab world. Morocco has maintained a nice level of stability and is regarded as one of the best tourist destination worldwide.
With its great culture and tolerance for difference, no wonders Morocco has managed to up and come over all the political instability. So now, Is it Safe to Travel to Morocco Right Now? For sure yes,  If you are looking for a place where you can see difference incarnated; Morocco is your travel safe destination for the best experience you could ever ask for.
3- Morocco Travel Health Concerns
Is it Safe to Travel to Morocco Right Now? Especially with all the health concerns in Africa. Let me assure you, Health shouldn't be one of the prime concerns when traveling to Morocco. The country is a Malaria-free place; therefore, you do not need to overly worry about mosquito bites, but you can take the usual precautions to stay safe (i.e. wearing lightly-colored clothes, using insect repellent in the warmer months, etc.). Unlike many African countries and other countries worldwide, Morocco enjoys a great level of healthy environment for you to safely enjoy being at.
Precautions to bear in mind:
It is highly important to avoid dark alleys (especially during night time)

Travel in groups or pairs, this indeed adds pleasure to the experience when you share it with those you value the most, and it also keeps you at a peaceful state of mind so that you can enjoy your experience to the best.

However, it is also safe to travel solo, just make sure to do a little homework and research before you travel, plan what you want to do, so that you leave no room for unexpected events.
4- Does Morocco worth a Visit?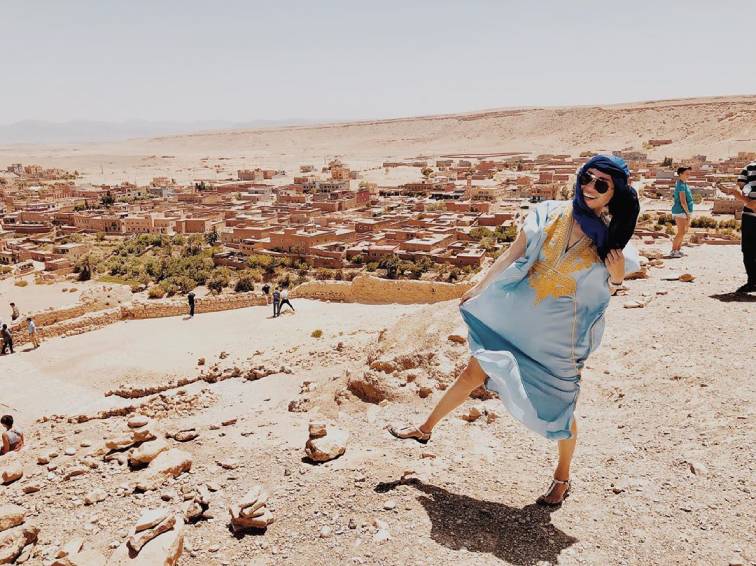 Kiko Miura enjoys the beauty of Morocco      credit
With all of these thoughts in mind, what do you think so far? Is it Safe to Travel to Morocco Right Now?
Of course YES, it is clear that Morocco is a safe and worthwhile heaven for tourists to visit. Tourists are always enchanted and impressed with the incredible hospitality that they have received when in Morocco. It is a place where you will find numerous cultures and different people living in one place in peace and harmony.
It is a place where terrorism has no place and any religious hate crimes or minority based stereotypes are nowhere near taking place. The hospitality of people and their goodwill makes it almost impossible to not just become enchanted with Morocco once you visit it.
So what are you waiting for, pack your things right now, and tick this beautiful country as your next enchanting and safe travel destination, to spend the best time of your live.
You may also like to read: