Morocco (or Marrakesh) is a sprawling metropolis of history, art, and architecture, connecting the two edges of the Sahara Desert in the foreground of the Atlas Mountains which offers several things to do in Marrakech for Young Adults. It is a melting pot of old and new that never ceases to amaze visitors with its vibrant markets, well-preserved historic sites, and incredible flavors.
This Moroccan destination offers a wide range of events that will keep you busy not just during the daytime (from traditional crafts markets to quirky museums), but also at night — rooftop bars, belly dancers, boat cruises, you name it! If you're looking for a new excursion or some time away from your everyday life, this is the place to go!
Hence, there is no need to search further if you're looking for some of the most fascinating things to do in Marrakech. The famous Red City of Morocco, with its red sandstone-walled Medina, is waiting for you.
Take a walking tour of the old part of Marrakech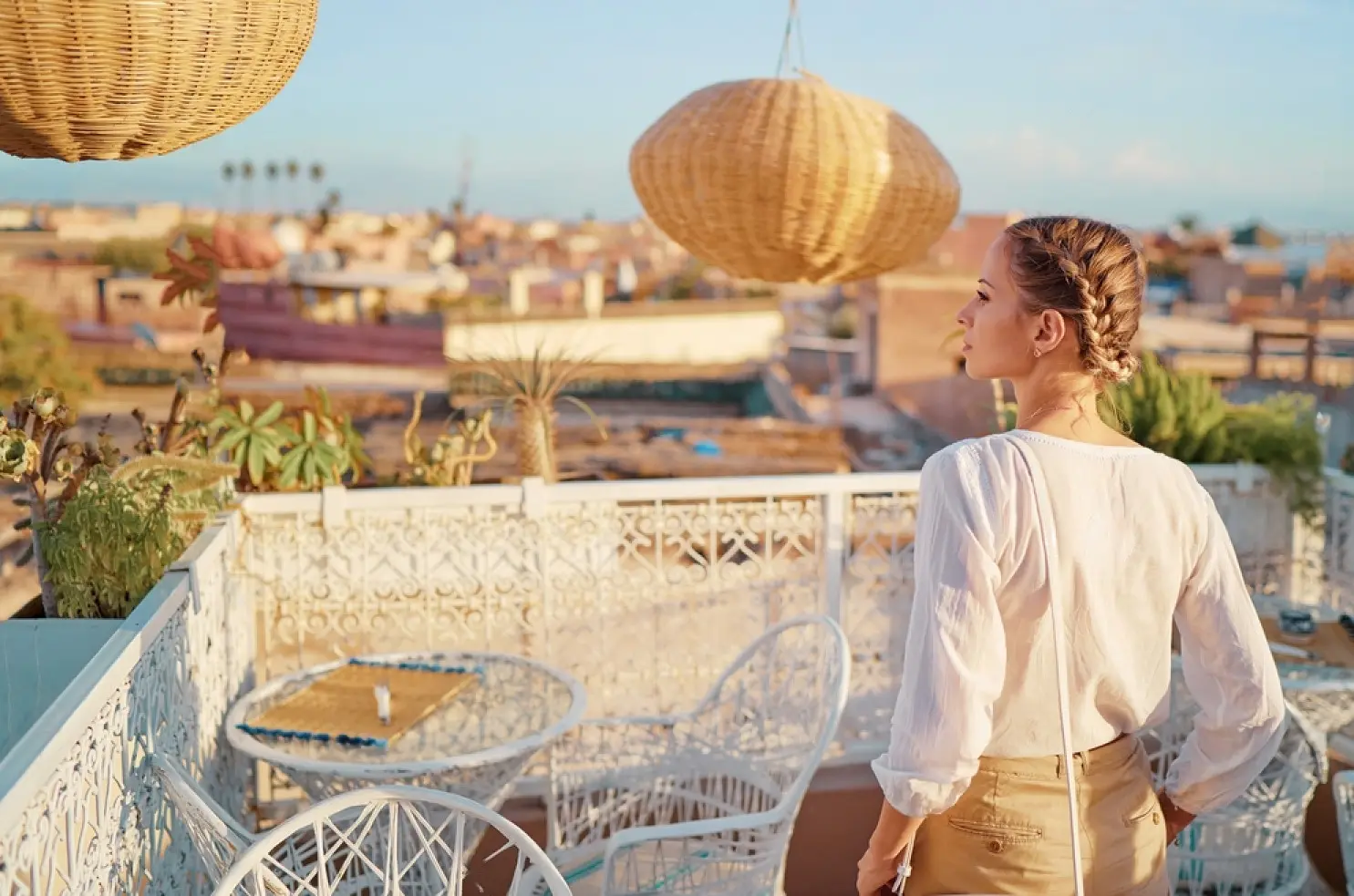 A walking tour is an important thing to do in Marrakech for young adults and is the ideal method to get to know this bustling city, offering everything from contemporary market tours to culinary walks.
There are also many tours that stop by neighborhood landmarks, mosques, and residences for those who want a more in-depth look at daily life here without really having to live it.
As you travel around the old town, you'll be astounded by the vibrant hues and intricate patterns that adorn the walls of the antique buildings. Also, you can shop for spices, jewelry, and ethnic apparel by haggling in the souks. Make sure to check out the Bahia Palace, a magnificent example of Moroccan architecture, as well as the Koutoubia Mosque, one of the city's most recognizable attractions.
Another must-see site is the Jardin Majorelle, a tranquil oasis in the middle of the city. A gorgeous blue villa that was formerly owned by Yves Saint Laurent can be found in the garden, which also has a variety of exotic flora.
Wander around the Atlas Mountains
The spectacular and distinctive panorama provided by Morocco's Atlas Mountains is ideal for wildlife lovers. Wandering through the Atlas Mountains is a great way to get away from the rush and bustle of city life and see this area's untamed beauty.
You'll see breathtaking views of snow-capped mountains, shimmering lakes, and bright valleys as you travel deeper into the Rockies. Also, you can go to nearby Berber communities, which gives you a real sense of how people still live here.
Walking across the Atlas Mountains is one of the greatest ways to see them, and there are many different hiking trails available for hikers of various skill levels. There is a trail for everyone, whether you are a seasoned mountaineer or a novice. The Toubkal National Park, the Ourika Valley, and the Asni Valley are a few of the most well-known paths.
In the Atlas Mountains, you can engage in a wide range of activities besides hiking. Mountain biking is an adventurous way to see the area, while horseback riding is a well-liked option to explore the valleys and mountains. Also, you can go swimming in the nearby hot springs to unwind or try your hand at rock climbing.
Camel Riding in the Sahara Desert, Unique Things to do in Marrakech for Young Adults
Camel riding in the Sahara Desert is one of the most well-liked pastimes for young adults in Marrakech. Visitors can escape the city's bustle and fully immerse themselves in the desert's natural splendor through this experience. Camel rides can be scheduled through hotels or tour operators and typically last one to three hours. To truly appreciate the tranquility and magnificence of the Sahara, visitors might also decide to spend the night in a desert camp.
Marrakech has a tonne of things to do in Marrakech for Young Adults, who would rather stay in the city. The city's souks are a must-visit destination for anybody who enjoys bargaining, shopping, and discovering the native way of life.
Marrakech has a thriving nightlife scene in addition to sightseeing and adventurous activities. The city's bars, clubs, and lounges serve a wide variety of patrons and provide anything from DJ sets and live music to traditional Moroccan acts and entertainment.
With a quad bike, explore the Agafay Desert
Beautiful scenery may be found in the Agafay Desert, which offers a different kind of desert experience than the Sahara. It is a great day trip for young people looking for an adventurous experience because it is close to Marrakech. In order to see the breathtaking natural beauty of the desert up close, numerous tour operators provide guided quad bike tours that transport tourists across challenging terrain.
Young adults can engage in other outdoor activities in the Agafay Desert besides quad biking. They include hiking, horseback riding, and camel rides. Guests can even spend the night in a camp in the desert, where they can dine beneath the stars and take advantage of traditional Moroccan hospitality.
For Moroccan young tourists, the desert is pretty well-known, but for those who would like to discover more of the region, there are many tours that include trips to the glistening Takerkoust Lake.
In a typical Moroccan hammam, relax and unwind
The steam bath known as a hammam is a mainstay of Moroccan culture. Often, a section for males and a section for women are divided. Following a scrub and massage, visitors can relax in a series of steam rooms and hot pools while wearing a traditional robe and slippers. In addition to being soothing, the experience offers young adults a wonderful chance to fully immerse themselves in the community.
Marrakech offers a wide variety of hammams, from opulent spa settings to more conventional and genuine enterprises. One of the most well-known hammams in the city is the Hammam de la Rose, which is located in the Medina's heart.
This hammam is well-known for its serene atmosphere and offers a range of services, including massages and traditional scrubbing.
Marrakech provides a variety of additional methods to unwind and unwind besides hammams. Several lovely parks and gardens may be found throughout the city. These grassy areas provide a tranquil respite from the city's noise and bustle and are wonderful locations to unwind and take in Morocco's natural beauty.
Things to do in Marrakech for Young Adults are Heart Racing with a Buggy Tour
Visitors can experience off-road driving on buggy trips as they go through challenging terrain and get up-close views of some of Morocco's breathtaking natural beauty. Many trips take tourists through the Palmeraie, a sizable palm grove outside of Marrakech. They may witness authentic Berber settlements and breathtaking scenery.
For drivers of all experience levels, from novices to experts, there are buggy tours available. Short excursions or full-day tours that incorporate several activities are among the many tour options available to visitors. Some excursions also take visitors to a Berber home where they may sample the warmth and food of Morocco.
Morocco Travel is one of the most well-known buggy tour providers in Marrakech. They provide a variety of tours to suit all tastes and skill levels. On these trips, you may have a guided ride through the Palmeraie, stopping along the way to see the breathtaking scenery and discover the customs and culture of the region.
Young adults can engage in a variety of outdoor activities in Marrakech, such as hiking, rock climbing, and hot air balloon excursions, in addition to buggy trips. After a day of exploration, the city also has a thriving nightlife with bars, clubs, and lounges that attract a variety of people.
Conclusion
In conclusion, young adults looking for adventure, culture, and excitement will find a wide variety of activities in Marrakech. Other activities besides those already mentioned include exploring the Medina, unwinding in a traditional Moroccan hammam, and going on a buggy tour.
For instance, experiencing camel riding in the Sahara Desert blends culture and adventure into one amazing experience. The broad and peaceful desert landscape allows for a beautiful and serene camel ride. The chance to camp out under a starry night sky and taste mouthwatering Moroccan cuisine makes this sport even more attractive.
A visit to the Atlas Mountains is a must-do activity for nature lovers. A stroll through the spectacular Atlas Mountain landscapes, which include breathtaking waterfalls and mountain ranges, provides a welcome respite from the bustle of the metropolis.
A trip to this gorgeous country may be affordable and exciting if you make the right plans and stay below your spending limit. You may visit this African nation for less money than you might imagine with a little bit of planning. Whether you're a luxury traveler or a backpacker, start making travel plans right away because Morocco has something to offer everyone!