If you plan to travel to Morocco from Australia. Let me assure you! This would be one of your best travel destinations and most adventurous.
As you plan your Travel to Morocco from Australia, I'm sure you have many wonders going on your mind! especially in terms of Morocco and Moroccan culture, how exotic this heaven is like? what flights are there to take? and most importantly what best travel route options are there to reach such a beautiful country all the way from Australia? ( a long travel isn't it – but trust me it is a worthy one for sure ! )
Further More, no visa is required. All what you need is to wonder about the flight and tours in Morocco.
Morocco is A Melting Pot for Australians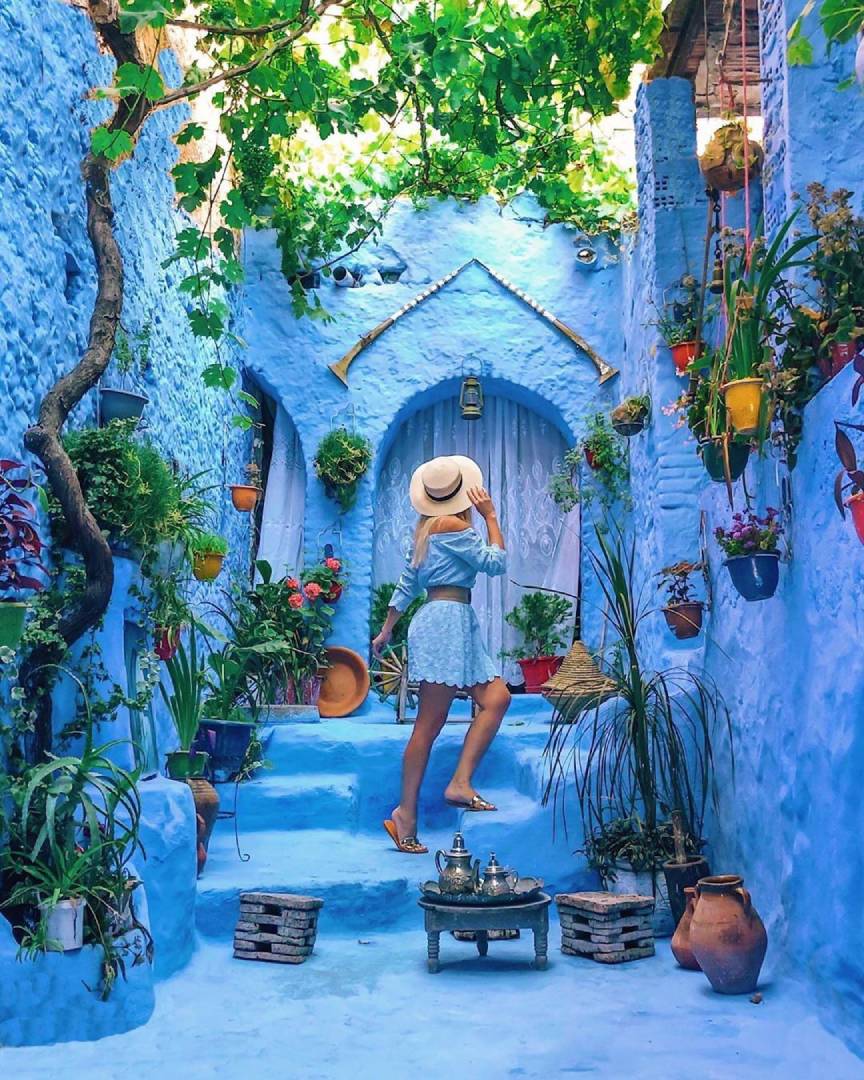 Chefchaouen, the pearl city of Morocco           Image Credit
Morocco is an exotic destination. It is a land of enchanting nature, conjuring desert images, wonderful oases that take your breath away, and eastern night times that will render your mind in a state of owe. Located on the Atlantic coast, Morocco is bordered by Spain, with Algeria to the south and the Mediterranean Sea to the east. Morocco is a breathtaking melting pot of Berber, African, Moorish, European and Arabic cultures. All of which coexist and add so much to each other, creating the exotic Morocco we get to experience today.
As you are now enchanted by these few words about this beautiful country, you are already wondering how to plan your next travel to Morocco. Indeed, if you are coming all the way from Australia, you are surely wondering how Travel to Morocco from Australia?
To travel to Morocco from Australia, it is essential to wrap your head around the major locations from where you could travel, the available flights, and the tours that you can book according to your budget.
Flights Booking to Morocco from Australia
To Travel to Morocco from Australia, you have various options at hand; however, a direct flight to Morocco seems hard to find. You will need to book a plane ticket to Morocco for your travel with at least a single stop at some point in the way, the following are two of the best and most convenient route options. I think that you might find most comfortable for your long trip travel plans to Morocco:
One-stop options could be the ones from the Middle East, especially with Qatar or Emirates.

Two stops option is usually best via London, where you will have to catch and you one of the budget airlines such as Easyjet (Ryan Air is the best, but sadly it no longer has flights to Morocco).
In order to choose the best option for your travel to Morocco, I will refer you to Travel Payouts. This website will provide you the information you needed about flight time, prices, and Air companies. All in all, everything related to your flight plans will be found here.
Tour Booking in Morocco
When you travel to Morocco from Australia, you have two options. The first option is to travel by yourself, and the second one is to book a tour with a Moroccan Travel operator.
If you choose to travel by yourself, that would be good in the sense that you push your adventurous self to the extreme; you go unknown places, with strange people, and you always ask yourself: what's next? However, traveling alone presents some shortcomings, one of which is skipping some of the best places. In this situation, paying some extra dollars can be more beneficial than traveling by yourself.
Traveling to Morocco from Australia by yourself
If you are planning to travel to Morocco alone, here are some information about travel times between different cities in Morocco. The time doesn't include waiting time in the car stations which can extend from 30 min to 1 hour or maybe more in some cities.
Marrakech to Fes: 6 hours by car, 8 hours by train
Fes to Chefchaouen: 3 1/2 hours by car/bus (no train service)
Fes to Casablanca: 4-5 hours by car or train
Marrakech to Casablanca: 3 hours by car or train
Marrakech to Ouarzazate: 4-5 hours by bus or car (no train service)
If you are planning to visit the desert, ride camels, and camp in the Sahara, the only option is to book a tour. There isn't transportation that links the exotic places in Morocco. People often use their own cars or humble minibusses. Therefore, you could save money by booking a tour of 3 to 5 days.
Short Term Tours to the desert from Marrakech
Traveling to Morocco from Australia with a Moroccan operator
If you want to make the best of your vacation, then the best option is to book a tour. Morocco travel offers tours from 4 major cities of Morocco.
Unless you traveled to Morocco via Europe, your arrival destination will be Casablanca. Consequently, you book a tour that starts in Casablanca and our driver will meet you there. You can pick from the list above your favorite place to starts a tour. However, in case you didn't find what you are looking for, you can just email us and we will make our best to help you.
Finally, Travelling all the way from Australia to Morocco could be a very hard and tiring ride. Yet, the beautiful and exotic landscape of Morocco for sure make up for that. The diversity and exotic nature of the country will make you ever so enchanted.