4 Day Morocco Tour from Spain allows you to explore Morocco in just 4 days.  The short distance between Spain and Morocco made it possible for a number of Spanish tourists to extend their weekend breaks in the exotic country of Morocco.
The distance is just 14.5 kilometers/9 miles. At this point, Europe and Africa are so close that it's actually possible to swim from one to the other. However, unless you're an athlete in prime condition, it's likely that you're looking for a more conventional mode of transport. There are several ways to make the crossing. You can fly, or you can book tickets for a number of different ferry routes.
Whatever the travel option you choose to get to Morocco, we have the adequate travel packages. Our diversified tours allow you to have a 4-day comfortable vacation. In the following, we will give you detailed information about flights and ferries to Morocco, and also the different 4 day tours that we have for you.
Transportation Options from Spain to Morocco
In your 4 day Morocco tour from Spain, the destination you prefer to be at will decide what transportation option is the best. If you decide to visit the north, what better option than ferries could there be? However, if you want to save time and travel fast, a plane trip to any destination in Morocco will do. You will be able to see so much of the destinations you will pick.
Ferry options to Morocco
Tangier is the best option if you choose to travel to Morocco via sea. There are regular ferry routes that link between different Spanish cities and Morocco. Tarifa, Gibraltar, Algeciras, Almeria, and Málaga constitute the main point to travel to Morocco.
Tarifa: on your travel endeavors and if you happen to be in Tarifa, which is located at the southern-most tip of Spain and the European capital of windsurfing. At Trifa you'll find daily and regular ferries to and from Tarifa to Tangier.
Gibraltar: A famous British enclave in Spain which has ferries to Tangier on Fridays and Sundays all year round.
Algeciras: A port city that has its charms. Algeciras is a port city in the south of Spain and is the largest city on the Bay of Gibraltar. The Port of Algeciras is one of the largest ports in Europe and the world in three categories: container, cargo, and transshipment. The city has regular daily ferries to Tangier and the Spanish enclave of Ceuta. So whichever location you chose to visit first, Algeciras port is your destination.
Almeria: a city located in the south-eastern corner of Spain (unlike most of the other ports which are in the south-west) with ferries to Al Hoceima, Nador and the Spanish enclave of Melilla. This port is by large the most famous, especially among regular travelers to Morocco.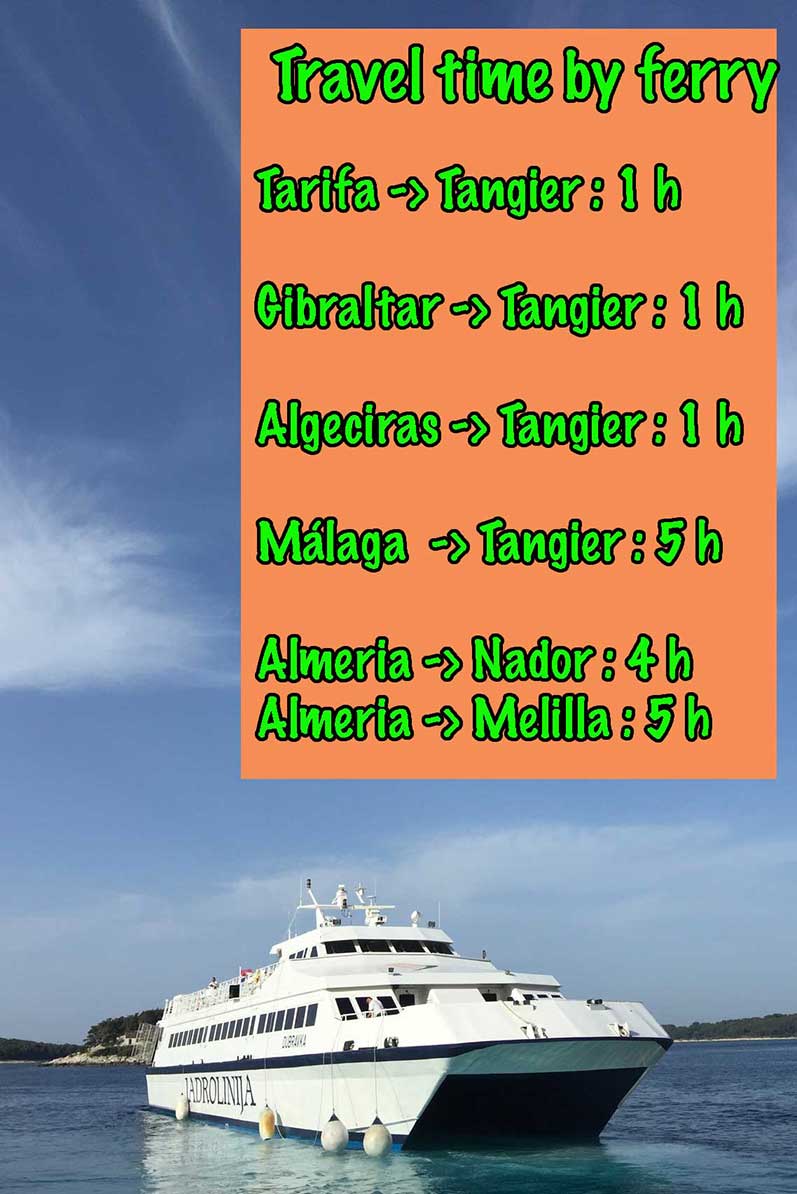 Málaga: Located in Costa del Sol, it offers one ferry on a daily basis to the Spanish enclave of Melilla. Once in Melilla you could choose to go around the city, or enter the Moroccan territories immediately and enjoy the exotics of the northern Moroccan mesmerizing hemisphere.
Flight options to Morocco
There are various flight options to Morocco. They are usually non-stop and they go about a number of destinations. The ticket price is about 85 Euros.  Whether you choose to fly from Malaga or Barcelona, the price of the flight won't exceed 100 Euros.
The flight is considered to be the best option if you want to visit the south of Morocco or if you find access to the coastal Spanish cities hard for you. Then, booking a fligh will be the best choice.
CHECK the form below from JetRadar to give you updated flights with competitive prices.
You can check detail flights and compare flights in Jetradar's form below.
However, if it happens that you are already in the south of Spain, or you want to visit the north of Morocco; then ferry will be your best choice.
Best 4 Day Morocco Tours from Spain
Our packages for 4 day Morocco tour from Spain vary. We start the tour based on the arrival point and the time of arrival.
Our tours are private tours. Therefore, we put at your disposition a personal driver who is also your guide. In addition, you get local guides in big cities because they have much knowledge about that specific place. The tours we provide are flexible, that is to say, if you don't like the itinerary, you can change it. However, this should be done before booking.
4 Days Trip from Tangier to Chefchaouen and Fes
This tour starts in tangier and ends in tangier. It includes visiting Assilah, Meknes, Fes, and Chefchaouen. You spend 1 night in Chefchaouen, 1 night in Fez, and 1 night in Assilah. This tour can be luxury or standard. All depends on your budget.
 Tours from Tangier can be customized in case you want to visit other cities.
4 days tour from Fes to Marrakech
4 days tour from Fes to Marrakech is suitable for those who booked a flight to Fez. It includes one-night camping in the Moroccan desert, camel ride, and visiting the most beautiful attractions along the way. In addition, you can see the barbarian monkey in the cedar forest of Azrou.
This tour starts in Fez and ends in Marrakech. However, we can bring you back to Fez if you wish.
Marrakech Desert Tours 4 Days
Marrakech Desert Tours 4 Days start in Marrakech and end in Marrakech. The tours include 3 days in different parts of the Moroccan desert. In this tour, you can engage with nomad families that still live in caves, visit the donkey market in Risani, hike in Dades valley or Todra gorges, spend more time in different sites, share a cup of tea with a Berber family…Etc. it is not just any 4 days. In 4 days you could still experience and see the wonders of Morocco.
Marrakech to Fes 4 days desert tour
Marrakech to Fes 4 days desert tour starts in Marrakech and ends in Fez via the desert. It includes the same activities as Marrakech Desert Tours 4 Days. However, the only difference is that instead of going back to Marrakech, we drive to Fes. For sure, this includes a lot of funny and interesting things to do and to see.
4 Day Morocco Tour from Spain is an exciting journey of adventure and discovery. However, we are totally aware of the fact that our tours may not be suitable for all kinds of tourists. Therefore, we are open to your suggestions, just EMAIL US what you want, and we will make your dream come true.
Happy travels.