5 Star Hotels in Morocco all Inclusive Resorts
If you are looking for 5 star hotels in Morocco all inclusive resorts, you are in the right place. Though hotels in Morocco are categorized according to the worldwide requirements, they are also favored based on their place.
For example, the main criteria that distinguish a hotel from another in Agadir are the coastline. So expect palatial beachfront hotels, oversized swimming pools and palm-shaded daybeds. However, in Marrakech and Fez, it is all about riad-style hotels hidden behind thick walls, enticingly in the center or close to the old medinas.
Presenting the best luxury holidays in Morocco will help you estimation how much money your going to spend in Morocco for a luxury travel. In addition, it is a good idea to have an overview about the types of hotels in Morocco.
The list bellow includes the best luxury hotels based on different cities. Some of them may not 5 stars, but they are the best according to the criteria stated before.
Palais Faraj
5 star hotel in Fez all inclusive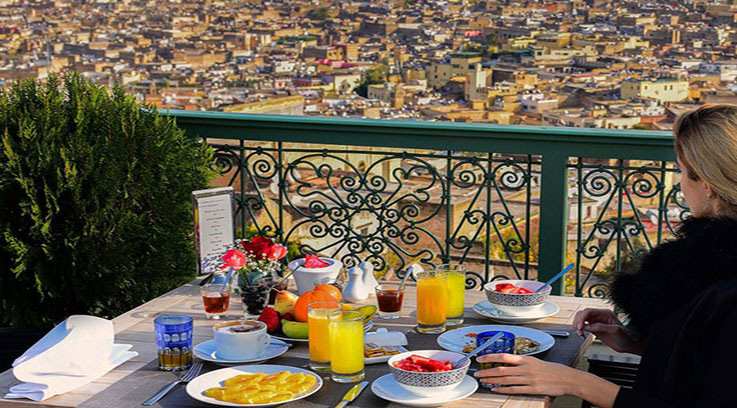 This hotel is situated at the heart of Fez city in a former Arab-Moorish palace. Palais Faraj Suites & Spa offers a panoramic view of the medina. It features an outdoor pool, spa, hammam, massage treatments and beauty salon.
The reception is open 24 hours a day and they indeed have wonderful customer service..
Each air-conditioned, modern suite is decorated with Moroccan Zellige tiles and has free Wi-Fi, minibar and flat-screen TV with satellite channels. All have a private bathroom and some have a terrace.
Additionally, Breakfast is available daily at Palais Faraj Suites & Spa. For other meals, Moroccan dishes are available in Amandier, one of the hotel's 2 restaurants. There are also 2 bars on site.
This hotel is in the Ziat district, a 5-minute drive from Fès Bus Station. It is 30 minutes' drive from Fes-Saiss Airport. At a surcharge excursions to places of interest and airport transfers are available. This is for sure a great option for a Luxury Morocco Holidays all inclusive.
Adress Palais Faraj in Fez
16-18 derb bensouda, Bab Ziat, Fes, Fes El Bali, 30000 Fès, Morocco
Website :
16-18 derb bensouda, Bab Ziat, Fes, Fes El Bali, 30000 Fès, Morocco
Website : https://www.palaisfaraj-fes.com/en/
Villa Diyafa
5 star hotel in Rabat all inclusive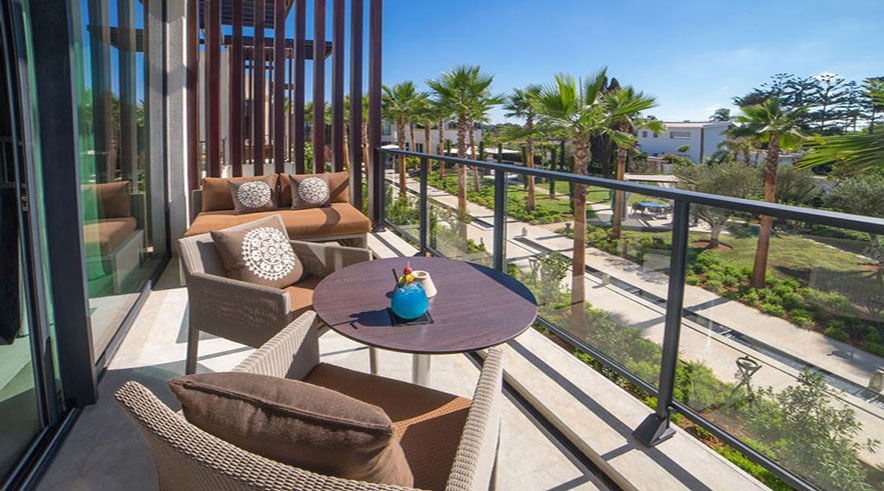 Villa Diyafa is a boutique luxury hotel located in the embassy district of Rabat. True to the name Diyafa, which is derived from the Arabic word hospitality. The team in this luxury hotel ensures that every experience and interaction is truly a memorable one.
Inspired by the life and art of historic influencer Zyriab, the interiors at Villa Diyafa are breathtaking and pay tribute to his beautiful vision. His influence is obvious in every space within the hotel mixing contemporary Moroccan architecture with an Andalusian touch. The hotel has been heralded internationally for its spectacular design concept.
Renowned for its tailor made unmatched style of service, its thoughtfully designed interiors and generous spacious accommodation.T
he Villa Diyafa offers a peaceful experience of unparalleled luxury in Morocco for those genuine discreet travelers. It boasts 10 beautifully appointed suites and a distinguished private villa as well as an intimate selection of dining experiences.
The leisure facilities at Villa Diyafa include a traditional Moroccan spa and hammam, a state-of-the-art fitness facility and a 25 meter swimming pool. The pool is surrounded by luscious sculptured gardens and water features.
Villa Diyafa is a perfect place for hosting small corporate meetings, retreats, and eclectic events. It is a great place for your Luxury Morocco Holidays all inclusive.
Adress Villa Diyafa
Angle Rue Bani Yadder et Rue Jebala، Rue Bani Yadder, Rabat 10220
For more details check : https://www.villadiyafa.com/
Hotel La Mamounia
5 star hotel in Marrakech all inclusive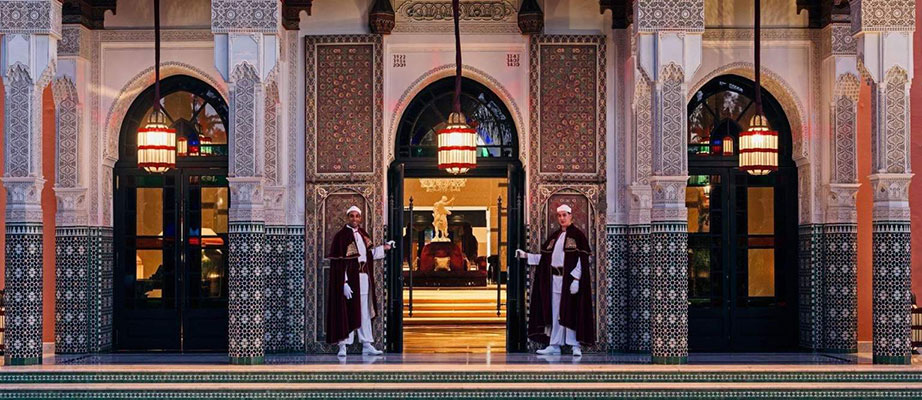 Among our 5 Star Hotels in Morocco all Inclusive Resorts, this one is the top. La Mamounia is another experience.
Set on a former royal estate dating from the 12th century, this lavish hotel is 14 minutes on foot from the lively Jemaa el-Fnaa market square. It's a 6-minute walk from the landmark Koutoubia Mosque, and 6 km from Marrakech Menara Airport.
Plush rooms feature free Wi-Fi and flat-screen TVs. Suites add terraces or balconies. Upgraded suites have separate living rooms. The 3-bedroom villas offer kitchens, patios and private pools. Room service is available.
Posh dining options include Italian and French restaurants. In addition,  an eatery next to an outdoor pool. Other amenities include 5 sleek bars, a luxe spa and a gym, plus landscaped gardens.
Adress Hotel La Mamounia in Marrakech
Avenue Bab Jdid، Marrakech 40040
For more details check : https://www.mamounia.com/en/
Hotel Sofitel
5 star hotel in Agadir all inclusive
Set on a private beach, this 5-star hotel is located a 10-minute drive from Agadir City Centre. Sofitel Hotel offers an outdoor pool surrounded by palm trees and a spa with hammam. The air-conditioned guest rooms equipped with a minibar and a TV with cable channels. Each elegant room at the Sofitel hotel includes Wi-Fi access. In addition, some rooms have a balcony and a seating area.
The 4 restaurants of the hotel serve traditional Moroccan cuisine, Asian specialties, and gourmet French dishes. Meanwhile, visitors can enjoy live music in the cocktail bar or discover international DJs in the So Fun nightclub
With a tour desk on site, the hotel also includes bike rental service. An airport shuttle also is provided. The hotel is located 19 km from Agadir Al Massira Airport and free public parking is available on site. Couples particularly like the location.
Sofitel Hotel Adress
Cité Founty P4, Baie des Palmiers, Agadir 80007•+212 5288-49200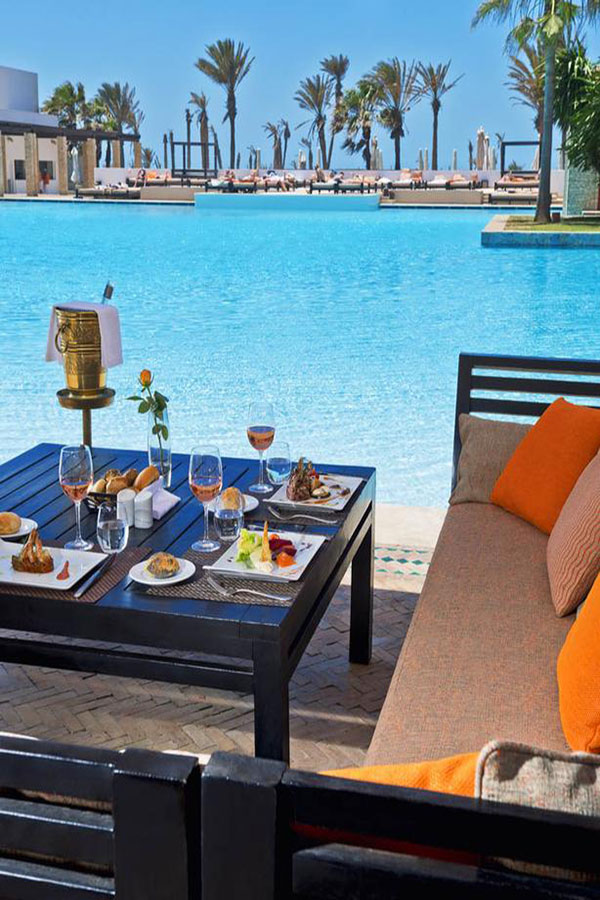 Best 5 Star Hotels in Morocco all Inclusive Resorts
There are many luxury hotels in Morocco. The list above presents just few of them from 5 different cities in Morocco. The hotels presented provide 5 start service if you want to spend a 5 star holiday in Morocco.