Are you looking for the best Best Holiday Packages to Morocco? We got you covered here!
Visiting Morocco is a journey into a timeless, tranquil world of cute coastal villages, colorful-painted towns that cling to hillsides, and remote mountain outposts defended by fortress walls. To discover this fascinating country's best places, you should consider different essential factors like time, budget, locations, etc.
The best packages to Morocco shouldn't include only the best destinations in Morocco, but also some of the off-the-beaten paths. Indeed, what's make traveling interesting is its authentic experience. Seeing both popular destinations and some undiscovered locations will give you an idea about what is Morocco.
In addition, the best package should take into account the comfort. That is to say spending more time is some places and less in others, dividing the time of trip when it is necessary for the long itineraries, adjusting the itineraries for families if they have children…etc. All this should be taken into account when you choose your packages.
In this article, we will present some of the best travel packages that you should consider if you intend to travel to Morocco.  Keep reading!
The Best Time to opt for your best holiday package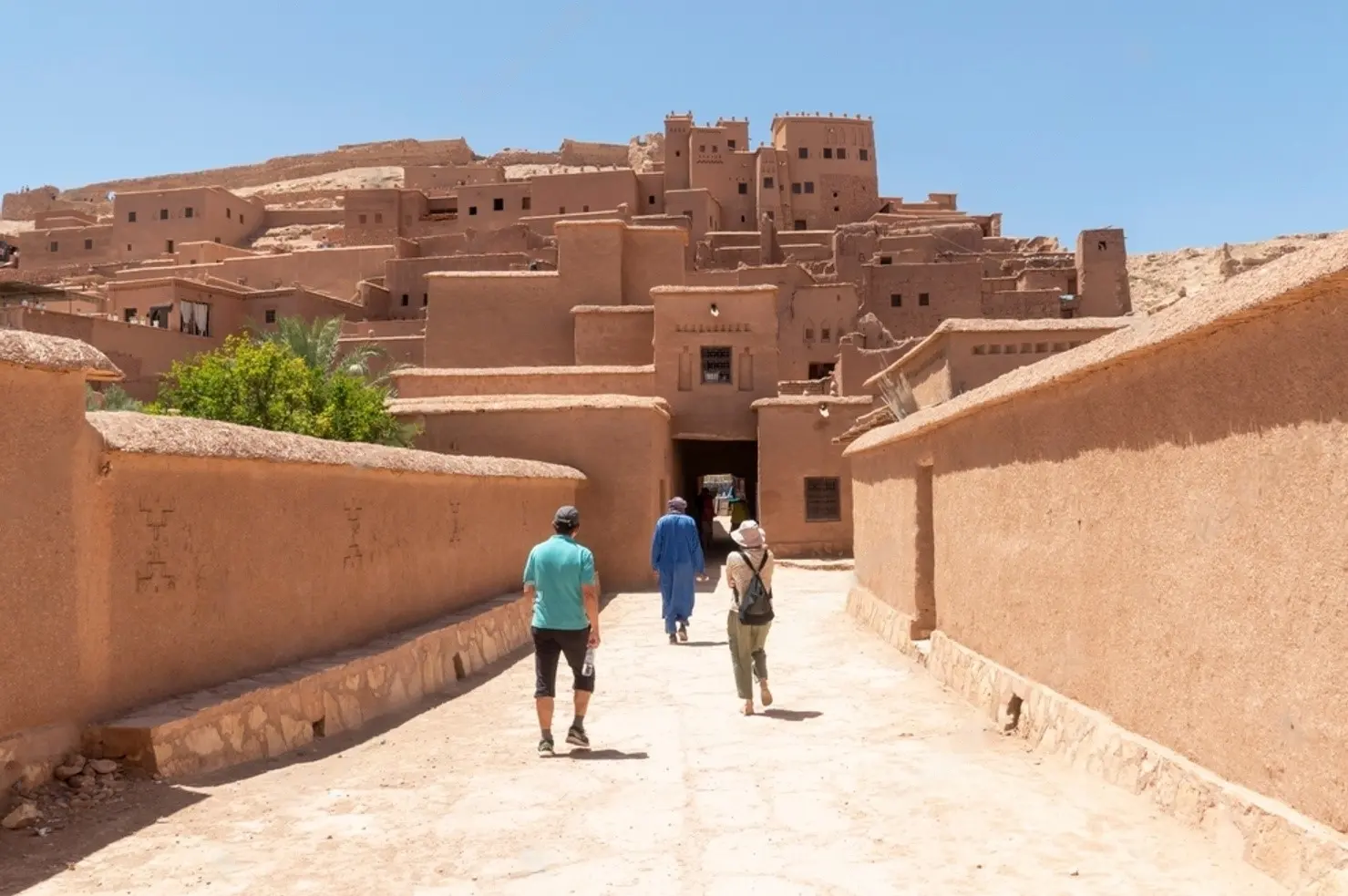 The best time to go for the best Holiday packages to Morocco is from March to May and September to December. These are also considered the ideal months to travel to Morocco due to the mild temperatures and affordable costs.
Ait Benhaddou is a beautiful site to walk since the spring season brings warmer weather and crisp, fresh air. The oppressive heat and louder streets during the busy summer months of June through August irritate tourists. Therefore, they are not considered good for visiting Morocco. Beaches, however, are best enjoyed in the summer, and if you happen to be passing through the Souss Valley in June, be prepared to see so-called goat trees. If you want to see the cities of Marrakesh or Fez, a warm fall is a great time to travel.
The evenings are chilly in January and February, which are ideal months for both desert hiking in the Sahara and skiing in the High Atlas Mountains. Moreover, the prices are very affordable during this time of the year.
Book your tour to the land of dreams
Morocco desert and camels
What should be included in your best holidays package?
If you consider traveling to Morocco, you should consider an all-inclusive package that includes transportation, hoteling, sightseeing, visiting tourist attractions, and much more. Though there are good short-term packages, but always the long-term packages are the best as they allow you to discover Morocco in depth.
The best holiday Packages to Morocco are mainly 10 days, 12 days, and 15 day packages. Within these packages, you can see underground Morocco and discover its secrets. You will be traveling with a local guide and you will reach locations other tourists can't reach. In addition, they are a hassle free since everything is booked for you; that includes the hotels & accommodations, multilingual driver and guides, comfortable air-conditioned 4×4/minibus vehicle, pick up and drop off from the Airport/Hotel/Riad, fuel & parking, etc.
Moreover, the following facilities are included whatever the package you choose.
Greeting and welcoming you to the tour.

Planning itineraries following weather forecasts and the length of each tour.

Scheduling visits and purchasing tickets.

Four-wheel-drive dune-bashing, camel trekking, etc., usually combined with an overnight stay in a desert camp right amid the dunes.

3 dinners in the desert along with all breakfasts.

Around the clock traveler guide.

Planning visits according to traveler's budget and preference.
Finally, these trips will teach you all about the local history, culture, and customes. You will visit local families and see how they live, share and drink tea with locals…etc. This is an exciting cross-cultural co-op adventure for every type of traveler. Therefore, all you have to do, is to relax, and enjoy the experience.
Top attractions included in the best Packages to Morocco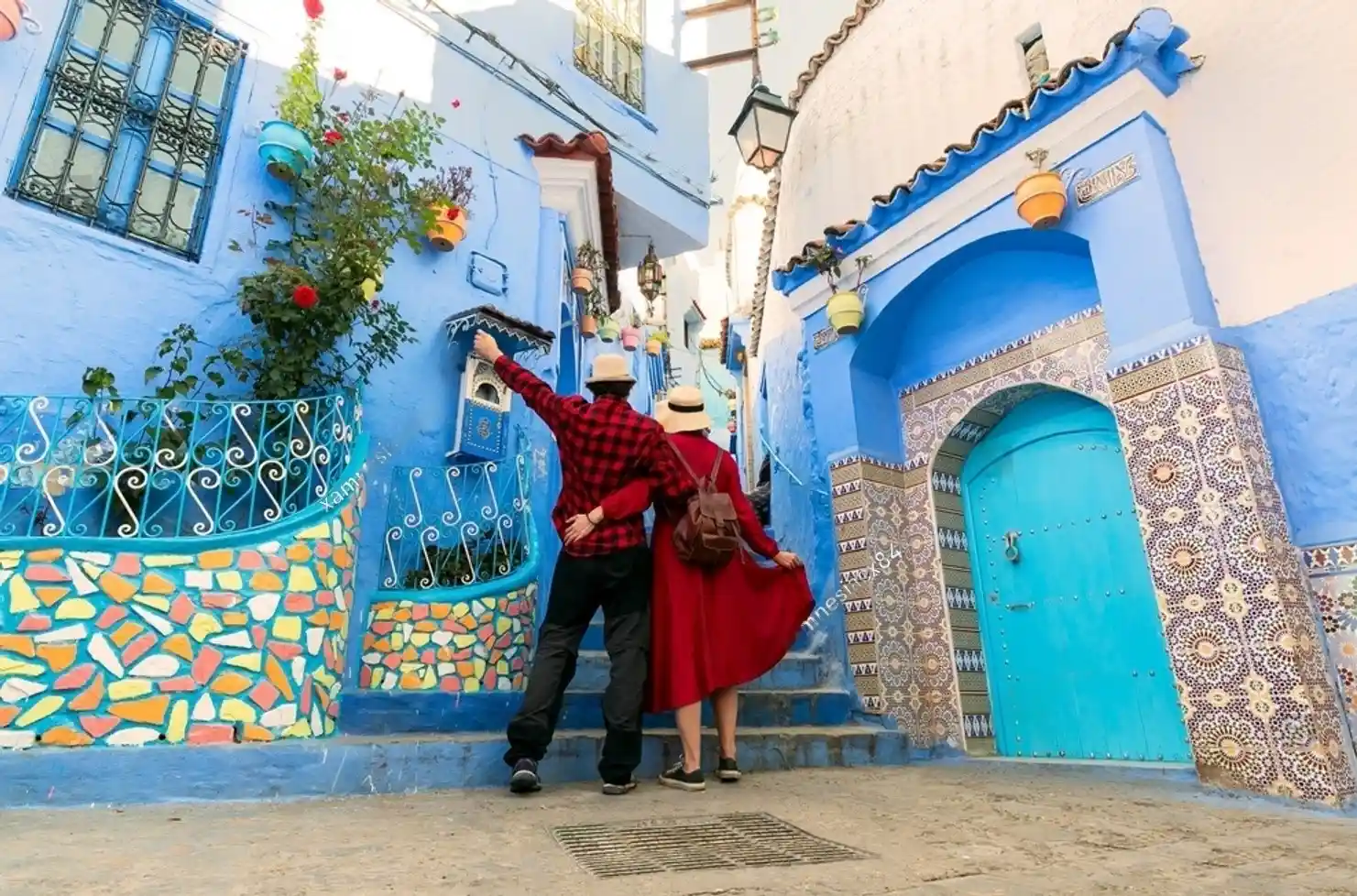 The fascinating country is a merging of the African and Arab worlds and is steeped in age-old customs. It is no wonder Morocco has been feted by artists and writers for decades and continues to enchant all who visit.
Discover the best places to visit in this captivating country with these top attractions that we think should be included in all best holiday packages to Morocco.
The bustling and vibrant buzz of Marrakesh medina sums up Morocco for many visitors and is a major tourist attraction. Chefchaouen is a labyrinth hill town of blue-on-blue buildings that has an incredibly photogenic glow. This is also one of Morocco's main hiking and trekking destinations and a starting point and organization center for Rif Mountains walks. The most popular destination for grand and rippling dunes is Erg Chebbi. This is prime territory for dune-surfing, four-wheel-drive dune-bashing, etc. Along with Marrakesh, Fes is Morocco's other big cultural destination. The medina here (called Fes el Bali) is a maze of skinny, back alleyways where it is near impossible to not get lost.
Ait Ben Haddou is a golden-stoned adobe ksar (fortified village) that thrusts dramatically out of the earth amid scenery that wows all who visit. It is a fairy-tale place. Essaouira's seafront medina, encased within fortified walls, is also one of the main attractions. Its twisty lanes are home to tiny art galleries, boutiques, and a bustling contemporary café and restaurant scene.
Volubilis, which is Morocco's number one Roman-era ruin, is the most famous historic site and a feast for history lovers. This rambling site is packed full of tumbled columns and temple remnants, standing as reminders that even the greatest empires eventually crumble. Moving ahead, Dades Valley, one of the favorite spots of hikers, trekkers, and general nature lovers is also included in the packages. Other places include Erg Chioggia, Bab al-Mansour in Meknes, Rif Mountains, Draa Valley, etc.
The packages below, provides you with all information about the included and excluded destionations. Normally, the 15 days holiday packages include everything, but the 10 days skip some locations due to the shortage of time.
15 days holiday packages to Morocco
With 15 days holiday packages to Morocco, one may fully enjoy Morocco's beauty without having to spend a lot of time driving between destinations.
This package prolongs the stay in some places like the desert where you will spend more than 4 days as you will discover in depth some of the unknown places with your local guide. Besides, you will enjoy seeing other destinations not included in short term itineraries like Taroudant, Agadir, and Essaouira.
This package includes all the best attractions in Morocco. It is an in-depth journey to the who, and the whatness of Morocco. Whether you travel with your family, friends or lover, this package is the best for an all-inclusive holiday to Morocco.
It starts from both Casablanca and Marrakech, but can be customized according your taste. You can just contact us and we will customize it to you for free.
For more information, you can check here the 15 days package.
12 days holiday packages to Morocco
12 days packages comprise of vacation leaving from Casablanca, providing the chance to visit the most popular locations in Morocco. The trip allows to get a close-up view of Morocco since the visitors will travel deep into the nation and see places that are off limits to most tourists. The chances of performing different activities like hiking along former trade routes, riding camels across gigantic sand dunes in Erg Chebbi, camping in the Desert of Merzouga, etc., are numerous.
12 days holiday packages to Morocco is the optimum length of time to fully experience Moroccan culture. This tour is crucial as it gives you the chance to see Morocco at your own speed. Along with cultural visits in historical cities, desert exploration, mediaeval medinas, bustling souks, historic ruins, and kasbahs are all included. Overall, with these all-inclusive Morocco holiday packages, you won't rush but yet give each place adequate time.
Unlike 15 day packages, 12 day packages don't include Taroudant and Agadir. To check the package, please check here
10 days package holiday packages to Morocco
10 day Holiday packages to Morocco are the shortest best holiday packages to Morocco. They cover some of the best attractions to Morocco and allows you to discover what this charming country has to offer.
Considering the number of days, the trip usually starts in Casablanca or Marrakech and can end in the city of your own choice. The trip covers Marrakech, Chefchaouen, Volubilis, Meknes, Fes, Merzouga, Todra Georges, and Chefchaouen. In such package, it is ensured that all of Morocco's fascinating locations and its surroundings are visited.
Within this package, you may visit at your leisure and view some of the most stunning sights consequently. On this road trip, you'll get the opportunity to see some of Morocco's most beautiful natural settings and tourist attraction.
In terms of the country's attractions, this itinerary for Morocco only scratches the surface and some of the hidden parts. Even though Taroudant, Agadir, and Essaouira visits are not, it will nevertheless provide you with adequate insight into the local culture, as well as some of the world's most stunning examples of architecture and one-of-a-kind locations in Morocco.
Please check here the 10 days Morocco Holiday package
Customized all-inclusive packages
You may see the paths of the packages we presented here and you'll observe that the majority of the itineraries center mostly on the Sahara Desert, and that for a reason. The majority of tourists desire them who visit Morocco desires to visit the desert as it is the landmark for which Morocco is known for.
If you are a Hollywood movie lover, you must have seen some of the most popular movies that have recorded in the desert of Morocco; Star Wars, Lawrence of Arabia, Prince of Persia, Jumanji: The Next Level…are just a few.
Indeed, no matter how much we attempt to design our tours, we are conscious that every person has their own unique tastes. Therefore, we offer a customized tour service that allows you to design your trip. We help you schedule your itinerary and we give you the right advice for an unforgettable trip to Morocco.  All that for free. Please contact us to help you.