The number of people who are booking Morocco Tours from Malaysia has been consistently increasing for several years. Many of those who choose to visit Morocco from Malaysia do it for different reasons, one of which is the exoticism of the country.
What makes Morocco so attractive is its desert. The Sahara desert in Morocco is closed to popular cities and very safe. Therefore, many travelers prefer to have an adventurous journey to it and experience camel trekking.
For Malaysian travelers, the situation isn't different. Since Morocco is visa-free for Malaysians, Many of them choose Morocco as their favorite destination. Some of them come with friends and many with their families.
In this articles, we will talk about the most popular Morocco tours from Malaysia.
You can check also: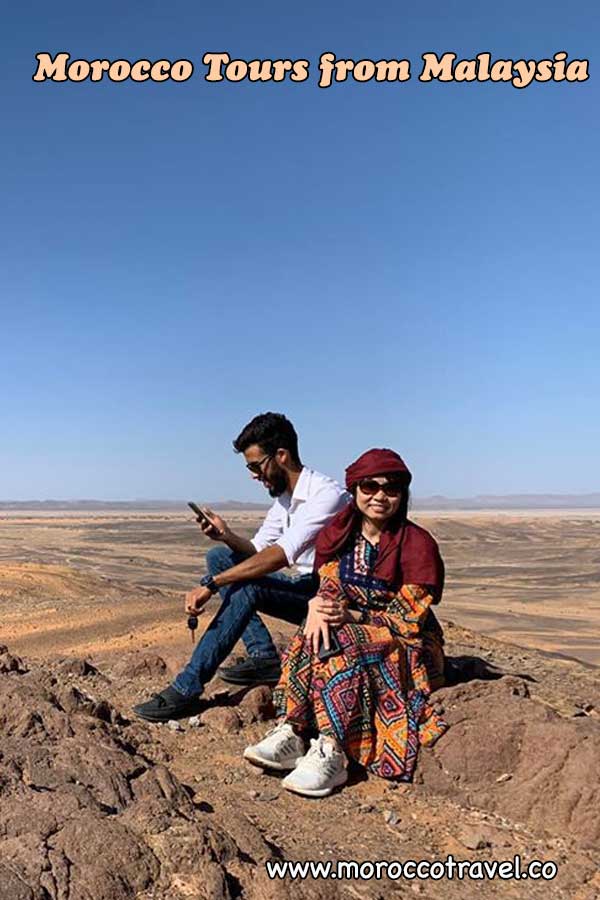 Popular Morocco Tours from Malaysia
The distance between Morocco and Malaysia is 11,533 km. The flight takes about 21h 5 mn and the average flight ticket is $550. Consequently, Malaysian travelers don't come to Morocco for a visit of 4 or 5 days. When they travel to Morocco from Malaysia, they spend at least 10 days.
You can read more about Traveling to Morocco from Malaysia.
Based on our experience, we think that 10 days is the ultimate tour that can anyone book in Morocco. In 10 days, you can see all the most popular destinations in Morocco. That includes the desert, imperial cities, and exotic markets.
However, for those who have some extra-days, we recommend 12 days. In this case, we can include another popular destination which is Essaouira, a very old city on the coastline of Morocco.
Highlight of Morocco Tours
There are plenty of activities to do in Morocco and many things to see.
Visiting the 4 imperial cities of Morocco

Experiencing the Sahara Desert: trek camels and spend one night in the camps in the desert

Experience the traditional riads in Morocco. It's what makes traveling with us unique.

Enjoy Berber food and Moroccan meals

Visiting exotic markets and traditional souks

Seeing snake charmers and magicians in Jamaa El Fna

Taking pictures in the Instagram city of Chefchaouen; Chefchaoeun is a popular destination for Instagrammers.

Enjoying tours in the old medinas with our local guides

Visiting Museums and Monuments

Seeing Atlas Studio or what is called Hollywood of Africa.

Visiting Ait Ben Haddou where countless Hollywood movies and series were shot.
Why 10 & 12 are Perfect for Malaysians?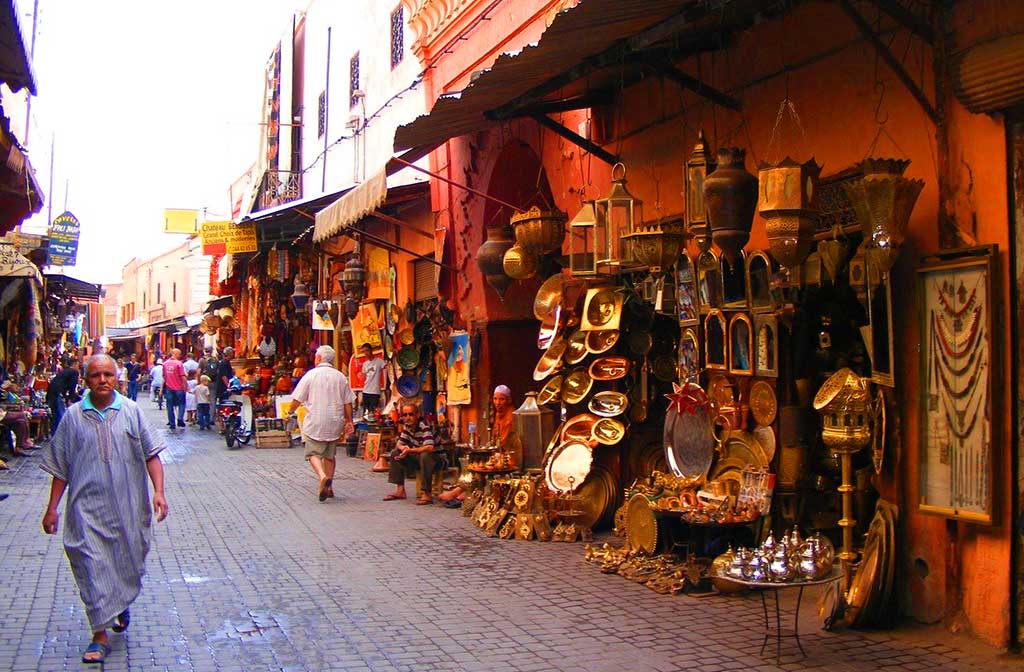 When you book 10 days, you can enjoy Morocco in a relaxed peace. In addition, you can see almost all the perfect destinations. Though Morocco seems small on the map, in reality, it's big; some say that Morocco is bigger than its map lol.
As a result, for less than 10 days, we recommend focusing only on some parts of Morocco, either the north or the south. However, for Malaysian travelers, we recommend visiting the south of Morocco, the Sahara desert.
The reason behind this is that Malaysia has one of the outstanding green natural beauty, just exactly like the north of Morocco; consequently, we think that heading over the desert will give you much more sense of traveling than the north.
In addition, since the desert isn't a part of Malaysia, visiting the Moroccan desert will be a good opportunity to discover more about Morocco. The desert is a popular destination and you will meet people from different parts of the world.
Nonetheless, 10 days or more constitute the perfect duration to spend in Morocco.
Popular Places to Visit in Morocco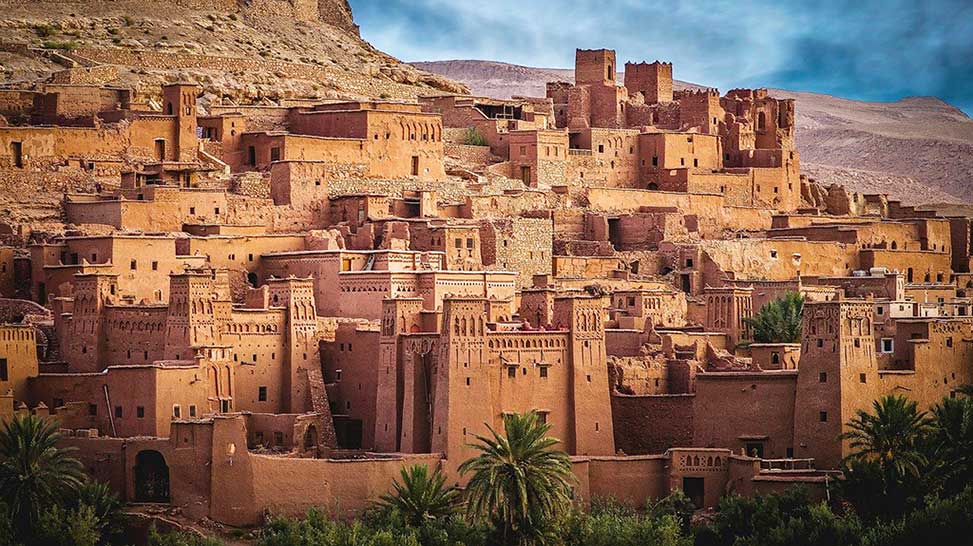 Popular Morocco tours from Malaysia should include the following destinations:
Marrakesh: it is the number one destination in Morocco. You will spend one day discovering this amazing city with our local guide. You will hang out in the old city during the day and you will enjoy the exotic Jamma El Fna during the night. Jamma El Fna Square is a meeting place for musicians, comedians, snake charmers, magicians. You will see Bizzare things there.
Fez: This city holds the oldest surviving city in the world. Its old city is bigger than the city of Marrakesh and there is a risk of getting lost. However, the city is safe and you will be amazed by its unique, yet traditional architecture. You will enjoy its narrow street with our local guide and you may find some products to buy.
Meknes: In addition to Marrakesh and Fez, Meknes is also another imperial city of Morocco. Its Lahdim square is similar to the Jamma El Fna Square in Marrakesh. You will enjoy its old city before you head to Volubilis.
Volubilis:  it is a Mauritanian capital, founded in the 3rd century B.C.. The city became an important outpost of the Roman Empire and was graced with many fine buildings. Volubilis is an indicator that signs the richness of Morocco and our local guide there will give you much more about this city.
Rabat: Rabat is the current capital of Morocco. You will have a tour with our driver and you will see its main hostorical sites. You will be introduced to its history. In addition, you will see the diversity of Morocco and how the culture change from one place to another even if you travel inside one country.
Chefchaoeun: This city is the most beautiful traditional city in Morocco. The city is popular among Instagrammers and they call it "Instagram city." Many bloggers come to visit this city to take pictures. the beauty of the city makes it desirable and wanted. If you love shooting, then this city is yours.
The Sahara Desert: Last not least the desert is another most popular destination in Morocco. There, you can ride camels, camp at night, eat Berber food, dance under the Berber music, and sleep under the stars. The desert is rich and will make you journey to Morocco wonderful.
Best Time to Book Morocco Tours from Malaysia
If you intend to visit the desert; then, we highly advise to avoid the summer. The desert during the summer is very hot and you cannot support the hit.
Morocco tours from Malaysia that target the desert are good during the autumn and spring.
The first best season lasts from September to the 1 January. However, the second stars in March and ends on the first of June. These periods are best since the weather in Morocco is neither hot nor cold. As a result, you can have a great tour in peaceful weather.
Finally, for any enquiry or question, please email us.