What to wear in Morocco in November is a challenging question. With its brilliant colours and rich culture, Morocco is a place where dressing appropriately may make all the difference in how enjoyable your trip is. This country views November as a transitional month, with temperatures progressively lowering as winter draws near.
What to pack could be on your mind if you intend to visit this land in the fall. Depending on where you will be, the weather at this time of year can drastically vary, so you may need to pack enough clothes to be ready for a range of temperatures and climates.
Early September and October can still seem very much like summer, but as November progresses, the weather changes and rain becomes more probable. This, in my opinion, is the ideal season to travel to this country.
I've put up some guidelines to assist you to select what to wear in Morocco in November so that you can start planning your outfit. But take note that you should properly check the weather at your destination.
Additionally, remember that daytime and nighttime temperatures might change considerably. When they arrived for one of our tours while still sweating from the heat of the day in sleeveless dresses or shorts, they learned that the temperature drops quickly once the sun sets.
Layering for tourists in Morocco in November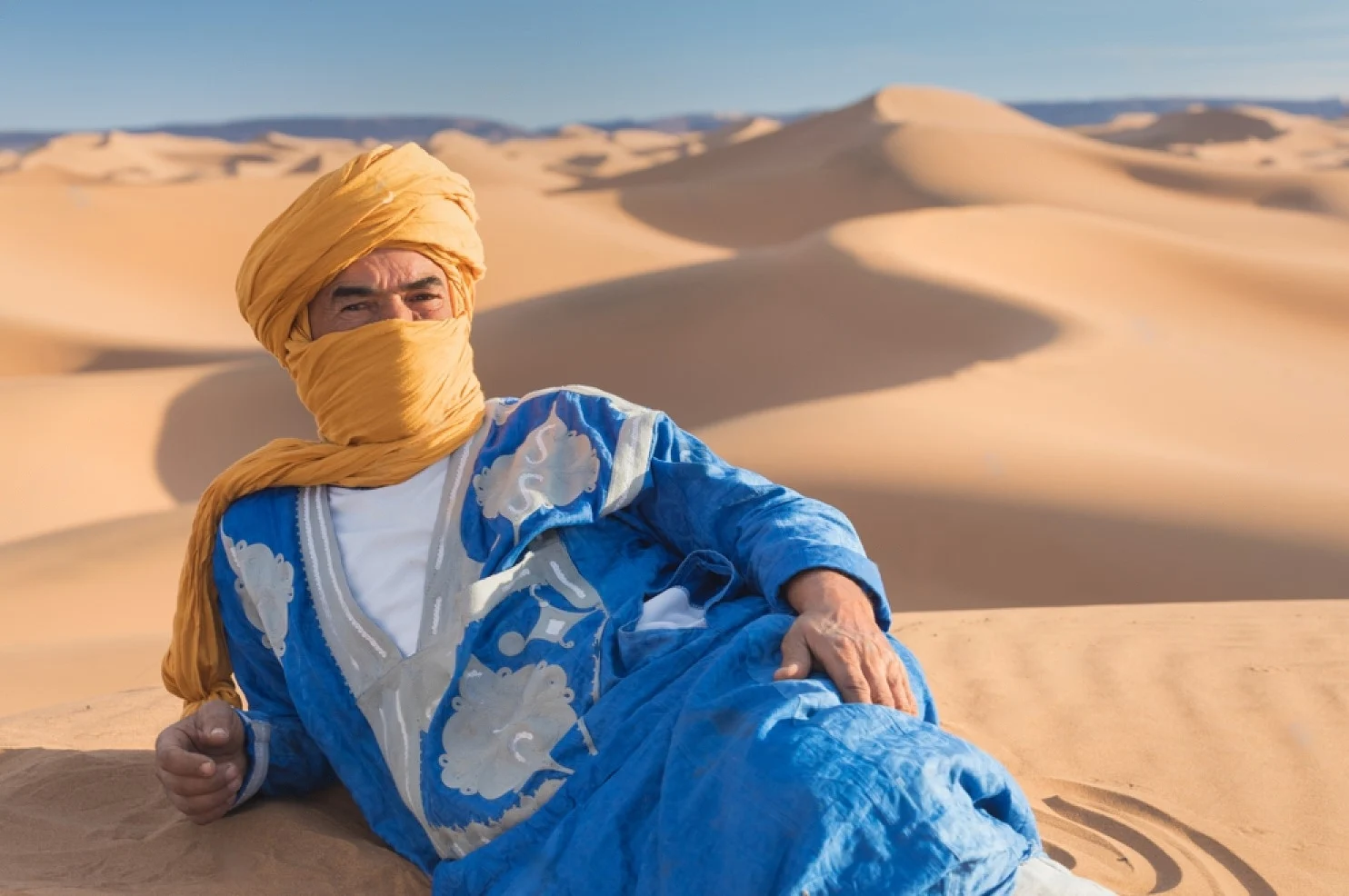 Layering is essential for weather-appropriate clothing. Even though it might get warm during the day, it can also get chilly at night, so it's a good idea to pack a light sweater or jacket. While wool and cashmere are good for the cooler evenings, lighter, more breathable fabrics like cotton and linen are perfect for the daytime.
A scarf or shawl is a practical and adaptable item to carry as an accessory because it can be worn in a number of ways and can shield you from the sun and wind.
Which color clothes should you wear in Morocco in November?
Don't be afraid to experiment with striking patterns and colors in your wardrobe because this land is known for its vivid, dramatic hues. Djellabas and kaftans, two examples of traditional Moroccan apparel, are fantastic choices and come in a variety of hues and designs.
Moroccan regional differences for clothing in November
Even in the height of summer, you should carry a sweater or heavy jacket if you intend to visit the Atlas Mountains because of the cooler climate there. Pack a waterproof jacket and warm clothes for the winter. Because it naturally aids in controlling your body temperature, merino wool is a fantastic material to wear next to your skin. Even after extended wear, it doesn't retain odors and keeps you warm in the cold, wicks moisture away in the heat, and keeps you dry when it's humid.

You might wish to pack a better outfit and shoes if your trip includes Marrakech and you intend to eat in the more upscale eateries in the contemporary city. At more exclusive places, women can get away with wearing a lower neckline and a shorter skirt.

Essaouira is a charming port city with many cobblestone walkways in the medina, therefore it is essential to wear comfortable shoes when visiting.
Fashion advice for ladies to choose what to wear in November
Swimwear should only be worn at the beach and swimming pool, and when out and about, you should cover yourself with a kaftan or sarong.

Avoid wearing short tops, short skirts and shorts, tight or body-revealing clothing, etc.

You can also protect yourself from the sun by wearing cotton pants or an ankle-length skirt with shirts or t-shirts made of various natural fibres. If you don't cover your shoulders, people will stare. Keep this in mind while thinking about what to wear in Morocco in November.

If you plan to visit any holy locations, keep in mind to cover your shoulders, stomach, and exposed legs. A sarong or pashmina will be useful for this.

Remember that any clothing can be dressed up with some basic costume jewellery.
What should Men Wear in Morocco in November?
When traveling in a conservative nation like Morocco, men do not take the same precautions as women. They must still take into account local customs to avoid offending anyone or drawing unwelcome attention. In every nation, blending in may greatly improve your experience.
Similar to Moroccan women, Moroccan males like to dress modestly and avoid appearing messy or too casual in public. The concept of modest clothing includes any conspicuous brand names, logos, jewellery, or expensive electronics. Additionally, think about hiding any offensive or excessive tattoos.
Some rules of Male clothing in Morocco in November
For eating out, males should often wear long pants and a shirt.

Although a collared shirt is thought to be more respectable, jeans and a t-shirt are acceptable. Jeans should fit comfortably and not be torn.

Tank tops and singlets are rarely seen as proper attire.

Avoid wearing apparel with excessive branding, logos, or patterns that can be offensive or not appropriate.

In hot weather, long shorts are acceptable for male travelers, although they are not generally regarded as appropriate for adult men in other settings, notably not in holy sites. Shorts are seen as undergarments in some rural areas. Observe regional indications in this.
Packing shoes for tourists when they visit Morocco in November
As you will probably be walking a lot while exploring the city, comfortable walking shoes are essential for footwear. Closed-toed footwear is also advisable because it will shield your feet from the heated pavement.

For evening wear, it is preferable to avoid wearing high heels and instead opt for attractive flat sandals.

You can quickly go from day to night mode while still traveling light.
Dress modestly in Morocco in November
When choosing your outfit for a November trip to this Islamic country, there are a few more considerations in addition to the apparel and accessories listed before.

The fact that Morocco is a Muslim nation and that visitors should dress modestly is a key consideration. Avoid wearing anything too exposing, and choose clothes that cover your shoulders and legs instead. Women should think about packing long skirts or dresses as well as sleeved shirts. Tank shirts and shorts are inappropriate for men. Hope so it answers your query what to wear in Morocco in November.

Remember that it is a very hot country and that the sun may be extremely intense even in November. To shield yourself from the sun, don't forget to pack sunscreen and a hat. It's also a good idea to wear sunglasses because the sun's glare may be highly damaging to the eyes.

As you will probably be walking a lot while exploring the city, comfortable walking shoes are essential for footwear. Closed-toed footwear is also advisable because it will shield your feet from the heated pavement. Bringing a pair of sandals or flip-flops will be helpful for relaxing around the hotel or riad.
Keep a bag
It's wise to always pack a small bag or purse for your basics like a camera, phone, money, and a passport. A cross-body bag that is lightweight and easy to carry is an excellent choice because it will free up your hands.
Local norms and Etiquette for dressing in Morocco in November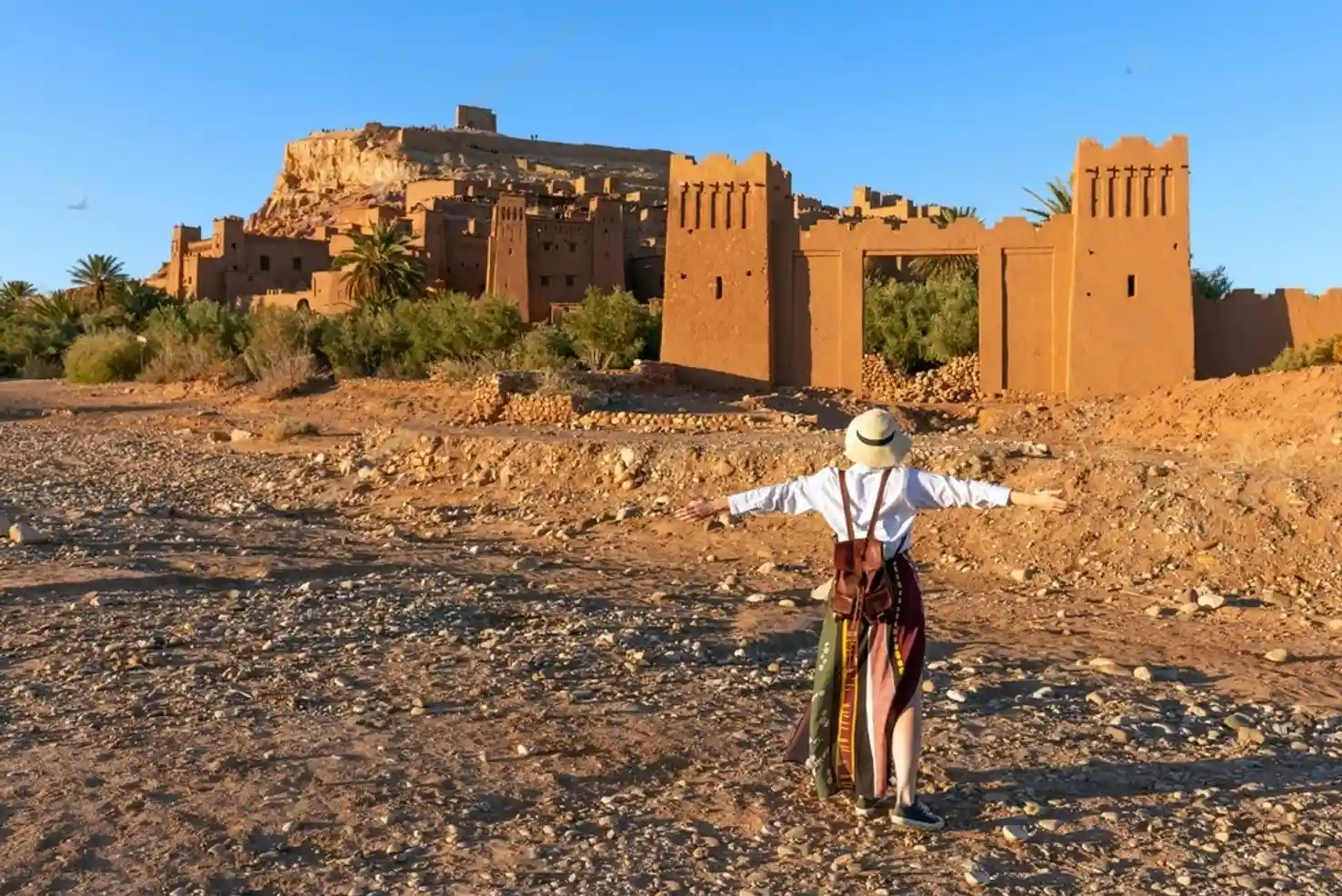 The local norms and etiquette need to be taken into account when choosing what to wear in Morocco in November. It's crucial to follow Moroccan customs and attire because the country is quite traditional.

Dress modestly and cover your head before entering a mosque or other place of worship. Men should wear long pants and a shirt with sleeves, and women should dress modestly by donning long skirts or dresses.

It's also vital to dress modestly when visiting a riad. Wearing skimpy attire or swimwear is not permitted inside the riad. Additionally, it is usual to wear a traditional robe called a "pestemal" and sandals when visiting a hammam, or traditional Moroccan bath.

It's crucial to follow local traditions and dress modestly when visiting rural areas or small towns. Don't dress provocatively or in anything that might be insulting.

It's also crucial to keep in mind that in this country, particularly in rural regions, smoking, drinking alcohol, and public shows of affection are not always acceptable, so you should exercise caution.
So keep in mind that it's crucial to consider regional norms and etiquette when choosing your wardrobe for a November trip to Morocco. Respect local traditions, dress modestly, and be aware of your behavior and actions. This will make it easier for you to fit in and respect the culture of the area, resulting in a more fulfilling and authentic experience.
End of discussion
In conclusion, comfortable, breathable clothing in vibrant, strong colors, with layers to adapt to the changing temperatures, comfortable walking shoes, and a scarf or shawl as a multipurpose accent are all recommended for November in this country. Dress modestly and keep in mind the formal dress code. Have fun on your trip!
In summation, bear in mind the country's conservative dress culture, and the strong sun, while planning your wardrobe for a vacation to this amazing country in November. You should include Layers, a hat, sunscreen, and a small bag for carrying necessities. This will enable you to maintain your comfort level and fully appreciate your journey.