Holidays to Morocco from Manchester invites you to explore the exotic land of Morocco. The country has been receiving much attention since Lawrance of Arabia was released. The exotic locations and the beautiful scenery made it one of the most attracting destinations worldwide. Recently, Lonely Planet has categorized it as one of the "Top 10 countries to visit in 2020."
Morocco attracts all kinds of travelers including culture lovers, adventure travelers, couples, backpackers, families, foodies, and more.
In this article, we will present to you the main activities to do in Morocco, the best places to see. In addition, we will show where to fly based on your time, how to book your perfect tour. Finally, we will show you our most popular tours.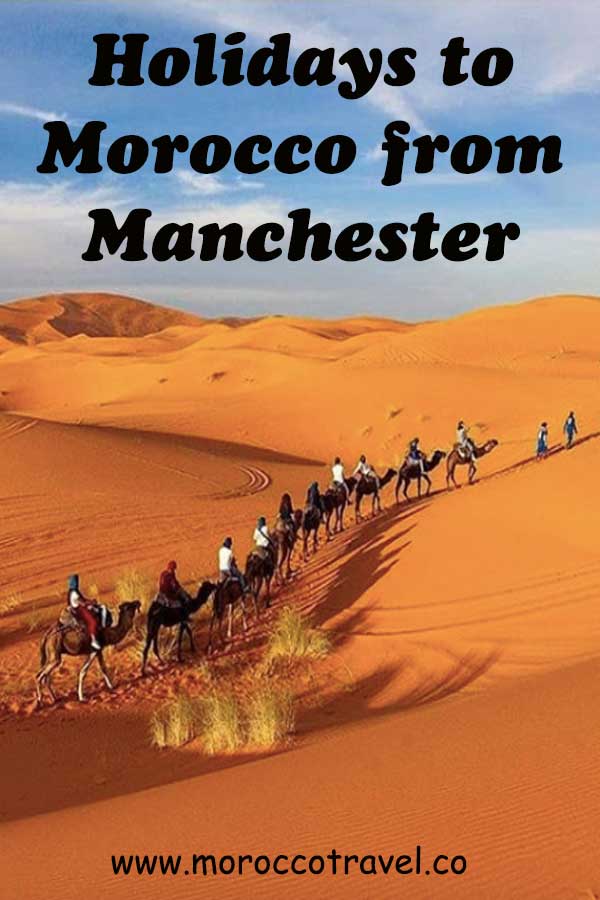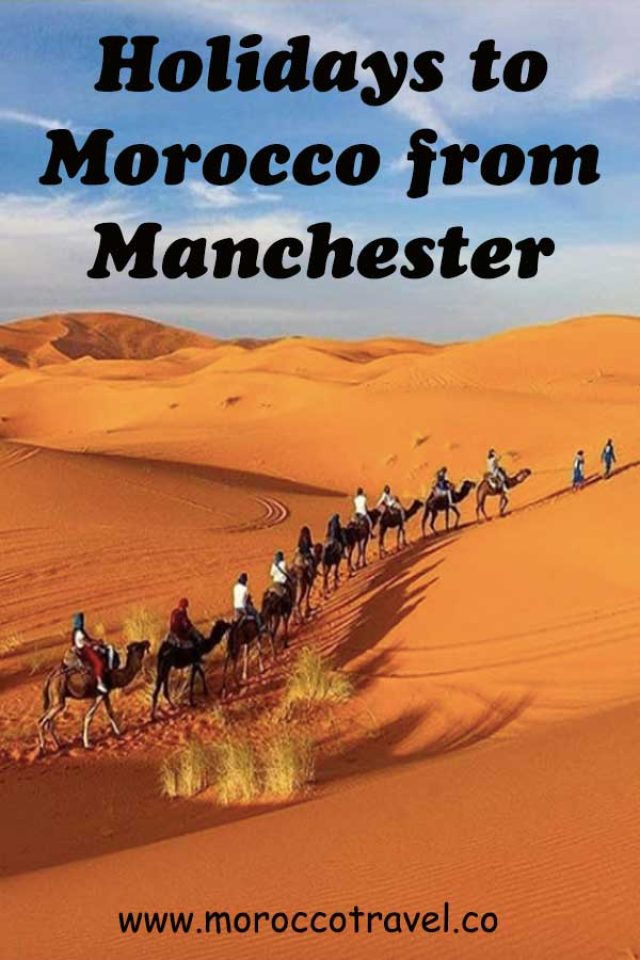 The Main Activities for holidays in Morocco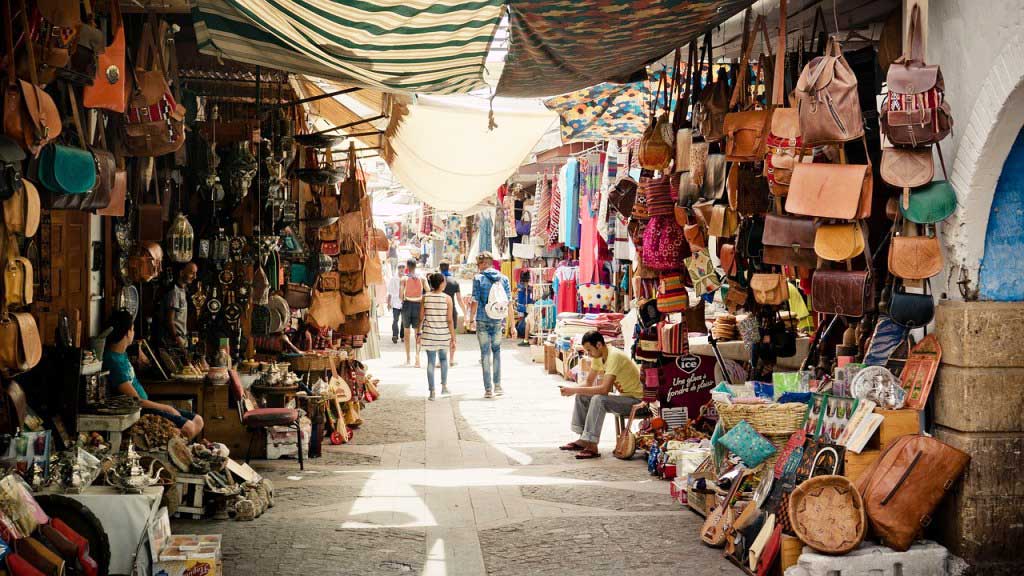 Best Holidays to Morocco from Manchester should include the following activities.
Riding camels in the desert. Many people dream of having a such experience. Therefore, Morocco offers you this possibility so that you can ride a camel at least twice, 1 hour each time.

Camp in the Desert. If you have never experienced camping in the desert, believe me, it a unique experience. You will enjoy a Berber night with Music and delicious food. In addition, the camps are in the desert. Consequently, no mobiles no technology, only wildlife with fire.

Shopping in the traditional souks of Fez, Marrakesh, and the Desert. Morocco is rich of traditional and exotic markets where you can find items you will never find elsewhere. Therefore, if you have a lover, it might be a good opportunity to buy something special.
Visiting the Game of Thrones locations. Morocco has been served as a backdrop for many Hollywood movies. Therefore, its beauty attracts producers all over the world. Recently, 3 main places have been used as a backdrop for Game of Thrones. You can read Game of Thrones Morocco Tours for more details.

Experience the sneaky roads of traditional cities, also cultural sites like Ait Ban Haddou, Hollywood of Africa…

Hiking in the High Atlas Mountains and driving in the sneaky road of Tizi N'tichka.
The best places to visit if you come from Manchester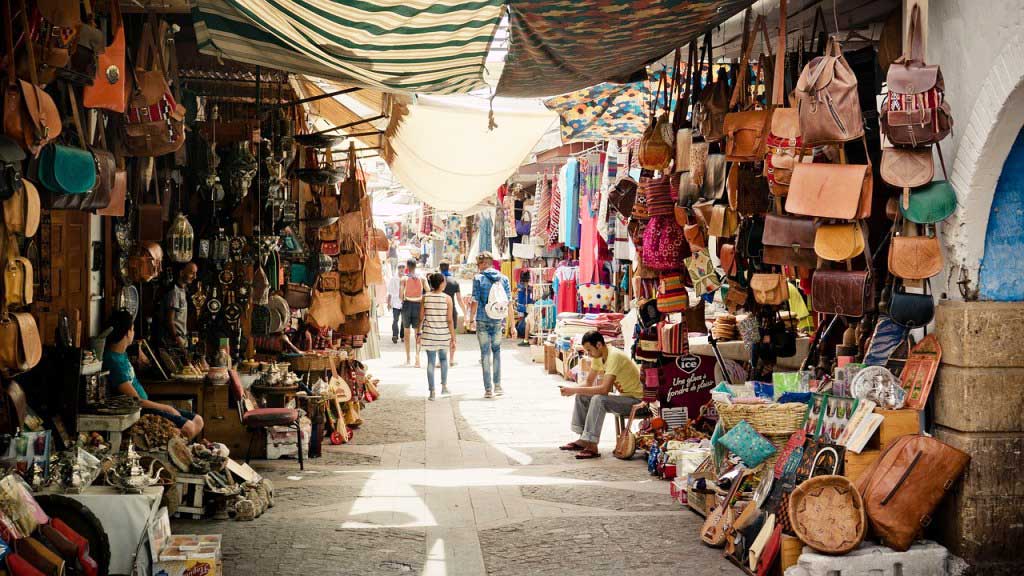 When you plan for your holidays to Morocco from Manchester. The destinations below must be in your package. They are classified based on their importance.
Therefore, the 3 firsts are must-see places. However, the other, it depends on the time you have in Morocco.
Marrakesh occupies the top place not only in Morocco, but also worldwide. The city constitutes a background for magic with its Jammaa El Fna square, and a paradigm of exoticism with its traditional souks and building. Marrakesh indeed is the place where the present and past collide.

Desert: if you travel to Morocco without seeing the desert; then your vacation in Morocco is a mess. The desert offers a unique experience that you can never experience somewhere else.

Fez or the oldest surviving city in the world as they call it. The city encompasses traditional charm with its narrow alley and its exotic markets. The old city of Fez is bigger than that of Marrakesh and you can get lost without a local guide.

Chefchaouen: Called Instagram city. If you have an Instagram account, you must then see Chefchaouen. This city offers its blue walls and its unique architecture to photographers.
Essaouira, one of the favorite places for Game of Thrones producers. This city encompasses different cultures from Spain and French legacy, to Berber and Arab influence. Moreover, its ramparts and big walls offers a unparalleled beauty to the city.
The list includes Ouarzazate, Agadir, Meknes, Volubilis, … and other destinations but we cannot list them all.
Best Morocco Tours
Best 10 days Morocco Tours
If you wonder about the best holidays to Morocco from Manchester, let me assure you! If you have 10 days in Morocco, you will discover the country in a more relaxed pace.
In 10 days, you will visit Casablanca, Chefchaouen, Volubilis, Meknes, Fes, Merzouga, Todra Georges, Ouarzazate, and Marrakesh. It means that you will visit all the attracting destinations around Morocco.
Indeed, these are our 10 days in Morocco. they are different in terms of starting location and the speed.
7 Days Morocco Tours
If you have only 7 days in Morocco, there are also 3 ultimate tours that can fit your needs. The first tour starts in Casablanca, the second in Marrakesh and the third in Fez.
The first tour starts in Casablanca and ends in Marrakesh. However, the tour can be customized to take you back to Casablanca for flight purposes. The tour includes visiting Rabat, Volubilis, Meknes, Fez, and then the desert with all its components. In addition, the tour includes also a guided tour of Marrakesh.
The second tour starts in Marrakesh and ends in Fez. The main purpose of this tour is to visit the Sahara desert and profit from its experiences. during this tour, you will spend more time on the desert so that you can ride camels and camp for a longer time.
The third tour is just like the second one, but in the opposite direction. This tour starts in Fez and ends in Marrakesh. The tour includes the desert and guided tour in Marrakesh and Fez.
How to Plan your Flight to Morocco from Manchester
For longer tours, it is better to fly to Casablanca and the fly-out from Marrakesh. This will save you time that you need to discover the country. You fly to Casablanca, then we start our tour following the itinerary that ends in Marrakesh. Therefore, it will be unnecessary to travel to Casablanca again. You can use that extra day to relax in Marrakesh.
However, for 7 days tours, we advise flying to Fez or Marrakesh. This will save time that you will spend on the road between Casablanca and Fez. If you like to start your tour from Fez, then the best option is to book a fly to Fez and then fly-out from Marrakesh. The opposite is true if you intend to start from Marrakesh.
Finally, if you need more clarifications about your holidays to Morocco from Manchester, just email us, describe what you want, and we will do our best to help you.
Happy Travels.