Are you ready to discover the best package deals to Morocco and see all its hidden treasures? Then keep reading!
The best package deals to Morocco are aided by locations, specific attractions, and authentic and unforgettable experiences.
It considers the destination, your comfort, and time of the trip, especially for long itineraries, adjusting itineraries for families if they have children…all of these are considered when choosing our best package deals to visit Morocco.
Morocco, located on the continent of Africa, across the Strait of Gibraltar from Spain, is recognized as a destination for relaxation and unique culture. It is a superb touristic country with some of Africa's most awe-inspiring cities, stunning beaches, and serene valleys.
 It is a very friendly tourist country and one that is sure to impress every traveler with Its magestic mountains, beautiful coastlines, old cities, exotic culture, and the vast sand dunes of the Sahara Desert.
For an exotic vacation, Morocco is a destination of choice for any independent or family traveler who values choice, and indeed an abundance of choices awaits any visitor who takes advantage of the best tour package deals to Morocco.
Allow yourself to be seduced and inspired by this awe-inspiring country.
Why you should book a trip to Morocco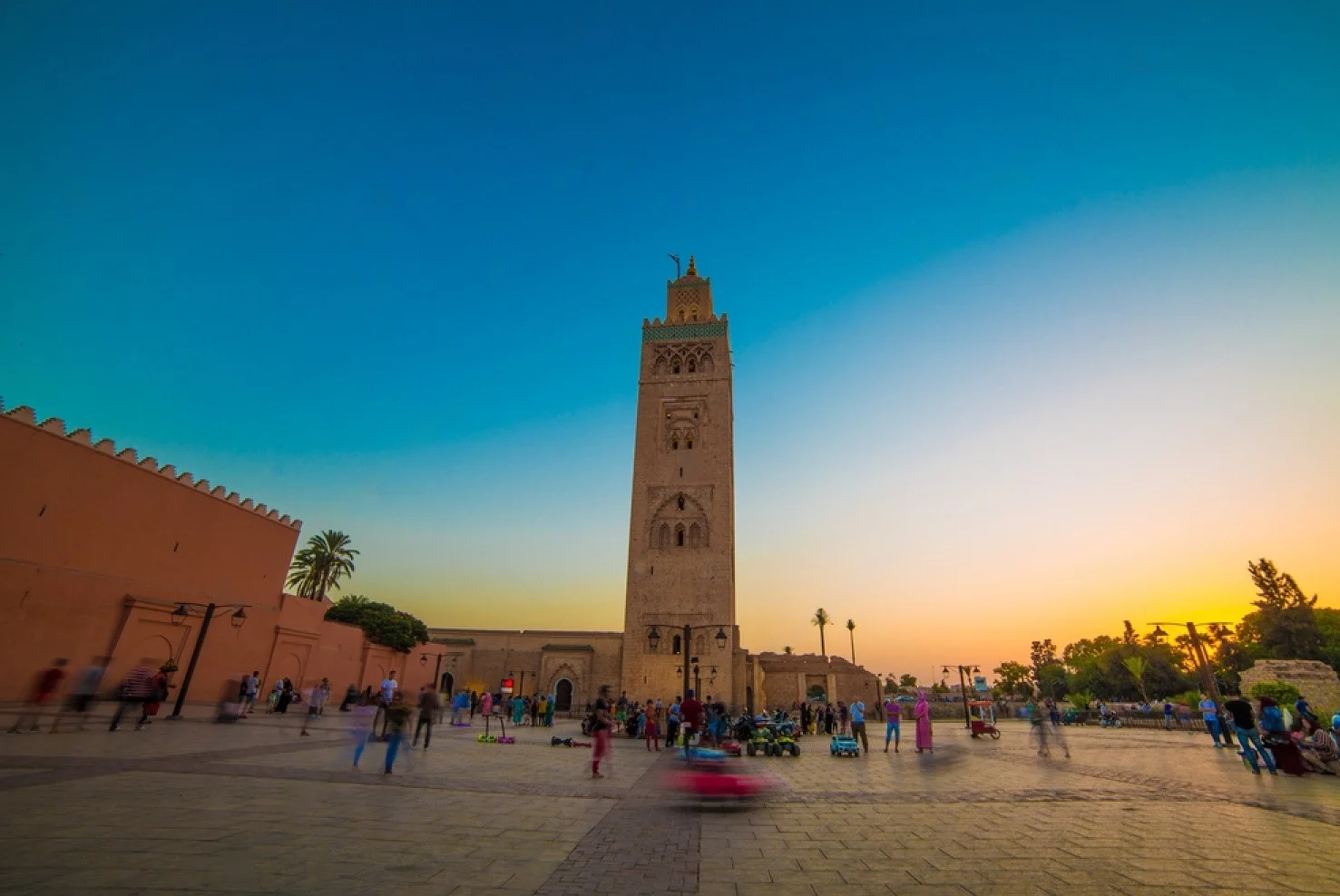 Morocco offers an array of colorful sights, tastes, and vistas for any visitor and is increasingly becoming a popular tourist destination. With its majestic mountains, friendly people, endless stretches of coastline, marvelous architecture, and a dizzying mix of attractions.
Morocco owes its charm not only to the beauty of its landscapes but also to its people and their way of life.
Morocco is a land of extremes – the old and the new, the traditional and the modern, the high Atlas mountains and the Sahara desert diverse to the traveler.
Book your tour to the land of dreams
Morocco desert and camels
Top Highlights of Morocco Deals
The imperial cities of Rabat, Meknes, Fes, and Marrakech features old palaces, mosques, winding covered alleys, crowded markets, and craftsman at work in tiny booths (as well as superb Moroccan cuisines in Fes and Marrakech).

Casablanca, although Rabat is the administrative capital, Casablanca is the business center with a cosmopolitan and active population, the new Hassan II mosques (a showpiece of Islamic decorative art and gourmet restaurants).

The Atlantic coast with its old Portuguese and Spanish fortification, beautiful beaches, surfing, and sea fishing.

The high Atlas and middle Atlas mountains are great for outdoor activities, trekking, climbing, birdwatching, and kayaking, all in a setting combining natural beauty and contact with a proud and hospitable population that has kept its traditional music, dance, dress, and architecture.

The fortified Ochre-colored, adobe kasbah nestling in intensive cultivation oases along the Dades and Draa valleys and some spectacular gorges.

The far south consists of a vivid patch of green palm trees along the river valleys in an otherwise barren landscape, sand dunes, stack cliff formations, mud-brick villages, and excursions on camel backs.

Prehistoric sites where neolithic men engraved rock surfaces with a representation of the animal he haunted or herded. The weapons he used and even the clothes he wore. Roman ruins at Volubilis, Lixus, and Cotta are still capable of evoking their glorious past.
Morocco's relatively high number of tourists has also been aided by its location, specific attractions, and relatively low prices.
Top 3 Package Deals to Morocco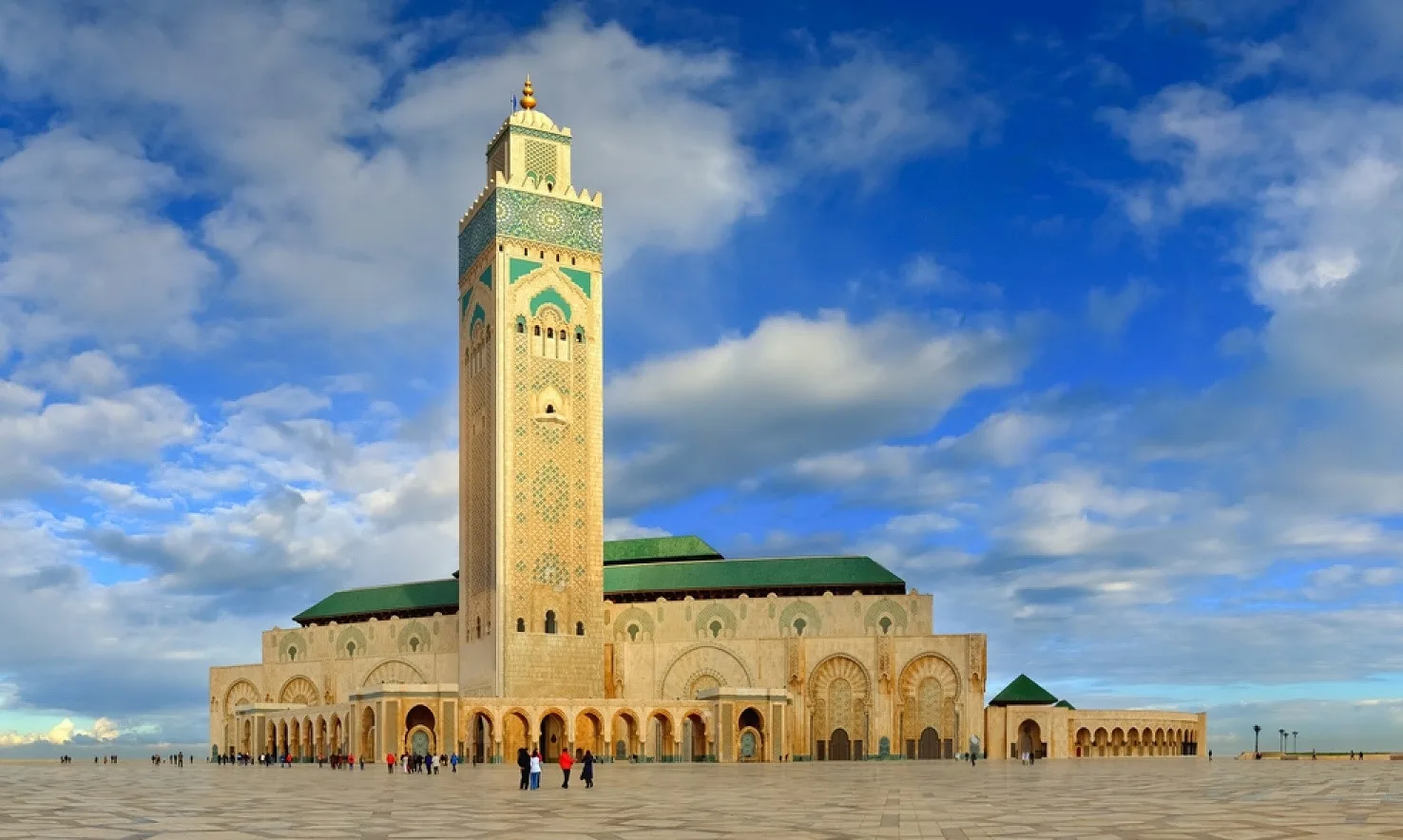 Morocco is very popular for long weekend stays, and multiple city tour (round-trip) visits and tourist areas are dynamic. Most tour areas are perceived as a destination for unique culture.
Our best package deals to Morocco provide you with all the information about the destinations, the included and excluded activities, and most importantly, the time spent in each destination.
Are you ready to explore one of the most beautiful countries in the world? Let us lift the veil for you…
10-day tour from Casablanca:
The 10-day tour from Casablanca is one of the popular tours to Morocco. Usually, people who want a short vacation and don't have enough time book this tour.
The 10-day tour is done by road, starting with Casablanca and ending in Marrakech. Exploring Morocco to see Morocco's most amazing sights as follows:
Chefchaouen, the pearl city of Morocco – a small town in the Rif Mountains known for its beautiful, blue-washed buildings, from here you move to…

Fez, the maze medina of Morocco- the country's largest city and home to one of the oldest universities in the world. The next visit is…

Merzouga, where you can experience a camel trek into the Sahara Desert and a night under the stars. The next stop is…

Dades Valley – you can see some of the most stunning rock formations in Morocco.

Ait Benhaddou – a UNESCO World Heritage Site and one of the most popular filming locations in Africa. The final stop is…

Marrakech, a vibrant city full of markets, museums, and historical sites.
This road trip is the perfect way to experience everything Morocco offers.
12-day tour from Casablanca:
If you want to spend enough time in Morocco and discover its culture, this tour is for you.
The 12-day tour from Casablanca allows you to see Morocco in-depth, reaching places a normal tourist cannot reach. This tour doesn't only include the best destinations in Morocco but also allows you to see the "whatness" of Morocco.
This tour allows you to trek along long-forgotten caravan routes, ride camels over colossal sand dunes in Erg Chebbi, camp in the Desert of Merzouga, and cool off in an oasis at the bottom of a George.
Our 12-day tour from Casablanca invites you to spend the following days in each place:
1 day and a half in Chefchaouen.

2 days in Fez exploring the city.

3 days in the desert that include camel trekking, camping, and a lot of other activities.

1 day in Marrakech where you will discover the city with a local guide.

1 day in Essaouira. If you have watched Game of Thrones, you'll be excited to visit this city used as a backdrop in the game of thrones but ignored by the majority of tour operators.
The tour includes all Game of Thrones locations in Morocco. We included Ouarzazate, the Cinema Studio, and Kasbah of Ait Benhaddou (Yunkai), which is crowned as the second-best Game of Thrones Instagram location.
Consequently, you will spend 8 days discovering places and enjoying locations. The remaining 6 days will be devoted to traveling between cities.
Come along with your camera.
15-day tour from Casablanca:
The 15-day tour from Casablanca guarantees you many attractions in the Moroccan city.
A well-managed time will be arranged for you so you can touch places you can't reach by yourself and not spend your vacation in the car only; we give you enough time to discover, see, and experience one place to another.
The best deal package includes all the best attractions in Morocco. It is an in-depth journey to the who and the whatness of Morocco.
Our 15-day tour to Morocco is the best package deal in Morocco, and it's not limited to but includes all the attractions in Morocco, which is not included in other tours as follows:
The tour starts from Casablanca.

2 days in Marrakech .

2 days in Fes.

Spend 4 days in the desert where you will discover in-depth some of the unknown places with your local guide.

See other destinations not included in short-term itineraries like Taroudant, Agadir, Rabat, and Essaouira.

Hollywood of Africa, cinema studio of Ouarzazate- The best attractions that you must see in Morocco.

Villages, mountains, canyons, landmarks, and, more importantly, hidden attractions.
We have selected the best package deal trips to Morocco so as to save you the hassle of planning your tours; you can travel comfortably without worrying about hotels, transfers, or time whichever tour suits your duration of the vacation.
But if you can't find your dream trip in what is presented above, you can contact us to help customize your own trip.
Explore Morocco safely (wide range of tours)
Discover the Imperial cities and the desert
Customized packages to Morocco
Morocco travel can help you customize your best package deal to Morocco!
We are conscious of the fact that everyone has their own unique tastes and desires.
So, we offer a customized tour service that allows you to design your trip and decide your tour locations. We'll help you schedule your itinerary and provide you with the right advice for an unforgettable best package deal to Morocco at no additional cost to you.
To help you decide your tour destinations, here are key sites visited by Morocco tourists.
The desert is the landmark for which Morocco is known; most of our tourists want to visit the desert, which is why most of our itineraries focus on the Sahara Desert.

The Kasbah of Ait Benhaddou – A UNESCO World Heritage Site since 1987, is a golden-stoned adobe ksar (fortified village) that thrusts dramatically out of the earth amid scenery that wows all who visit. It is a fairy-tale place. 

Essaouira's seafront medina encased within fortified walls is also one of the main attractions. Its twisty lanes are home to tiny art galleries, boutiques, and a bustling contemporary café and restaurant scene.

Marrakech medina sums up Morocco's many visitors and is a major tourist attraction. Chefchaouen is a labyrinth hill town of blue-on-blue buildings with an incredibly photogenic glow.

Fes is Morocco's other big cultural destination. A maze of skinny, back alleyways where it is near impossible to not get lost.

Volubilis is Morocco's number one Roman-era ruin, the most famous historic site, and a feast for history lovers. This rambling site is packed full of tumbled columns and temple remnants, standing as reminders that even the greatest empires eventually crumble.

Dades Valley, Is one of the favorite spots of hikers, trekkers, and general nature lovers. Other places include Erg Chioggia, Bab al-Mansour in Meknes, Rif Mountains, Draa Valley, etc.
Please contact us to help you.