Holidays to Morocco from Dublin will take you to the fascinating and magic land of Morocco. From the epic desert scenes of Laurence of Arabia to the dusty dust-ups in Gladiator, Morocco grabs the attention of visitors around the world.
Morocco is a magic land whose beauty is only matched by its history and variety. The country embraces the modern world, yet steeped back in time in fascinating history. its story goes back to just after the Ice Age; it has been a great spot for Berber civilization; a Roman colony, with one of the greatest cities at that time; a favorite place for Arbab invaders; and a French and Spanish colony in the modern time. Morocco is much more than a country that you visit and forget.
What makes the country special is that all this fascinating history is still intact and you can see it in different parts of the country. From the old ruins to traditional markets and old towns, Morocco shows you its history as it was.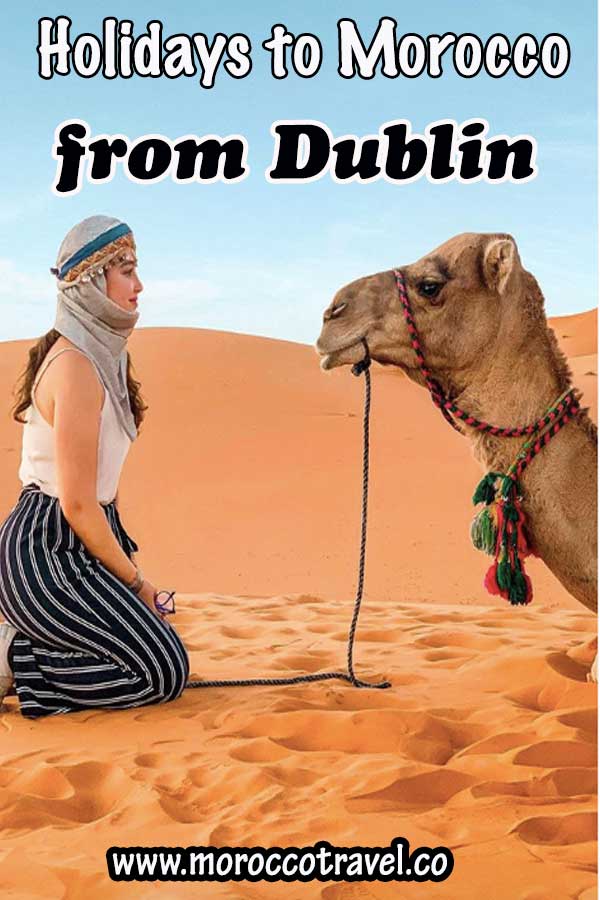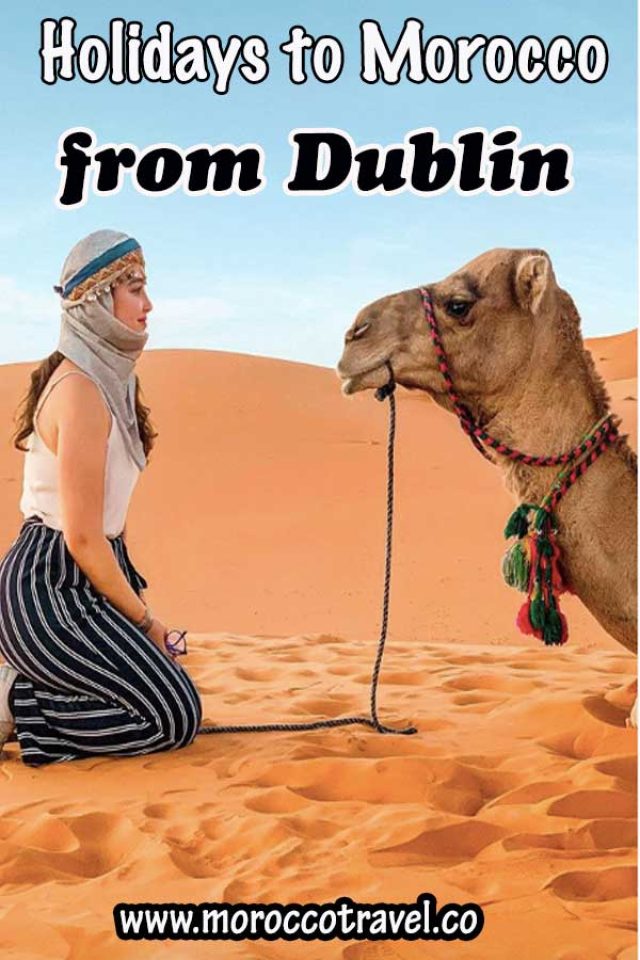 In addition, Morocco holds one of the best locations in the Game of Thrones. Kasbah of Ait Ben Haddou was ranked as the 2nd "Top 10 most Instagrammed Game of Thrones filming locations" by entertainment. This makes Morocco unique and attractive.
Indeed, this article will tackle the best way to fly from Dublin to Morocco, what you need to know before you travel, and the best way to travel inside Morocco.
Best Things To Do In Morocco
If you to experience the best holidays to Morocco from Dublin, you need to see the following places:
Spend a day or two discovering Marrakesh. You can see the colorful markets and souqs, the beautiful Majorelle Garden, the bustling city square of Jemaa el-Fnaa, and experience a night in the traditional Riads of the city.

Ride camels across the sand dunes of Erf Chebbi and camp in nowhere in the Sahara desert.

Discover the Roman ruins of Volubilis. This beautifully preserved hilltop city was once a remote base for the Roman Empire, and is now a collection of 2nd and 3rd Century ruins.

Take pictures in the majestic city of Chefchaouen. A city that attracts Instagrammers all over the world.

Visit Ait Benhaddou and other Game of Thrones locations.

Exploring the oldest living city in the world, Fez. From olde Markets to unique handicrafts, Fez offers you unparalleled experience.
Flights to Morocco from Dublin
Unfortunately, there are no direct flights between Dublin and Morocco. Therefore, the flight duration varies based on many factors. Manya airlines claim that the duration varies between 3 hours, 27 minutes and 3 hours, 57 minutes. However, this time cannot be exact and you should add to it the following factors.
An extra 30 minutes for take-off and landing.

The time between the gate and the airport runway, 15 minutes.

Airport wait times and possible equipment or weather delays.

The calculation of flight time is based on the straight line distance from Dublin, Ireland to Morocco, which is about 1,474 miles or 2 372 kilometers.

The time also can vary based on the destination, Marrakesh Airport,
Similare articles:
Flights to Casablanca from Dublin: The flight time varies between 4h 45 min and 9 hours. The Cheapest price can be as low as £121. It varies according to the season. Therefore, in the low season, you can get a really good price. However, on average £135. The flights include at least one stop.
Flights to Marrakesh from Dublin: Flights that link between Dublin Airport and Marrakesh take about 3h 45min. The cheapest price for the flight is £64. However, this price is not fixed and changes over time. If you have a short break in Morocco and you target the desert, then this flight is the best.
Flights to Fez from Dublin: The flight time takes about 3h 15min. There are only few direct flights to this destination; therefore, you need to look for connecting flights, which affect the flight duration. The average price is £44 but it increases in the peak seasons.
Best Holidays to Morocco from Dublin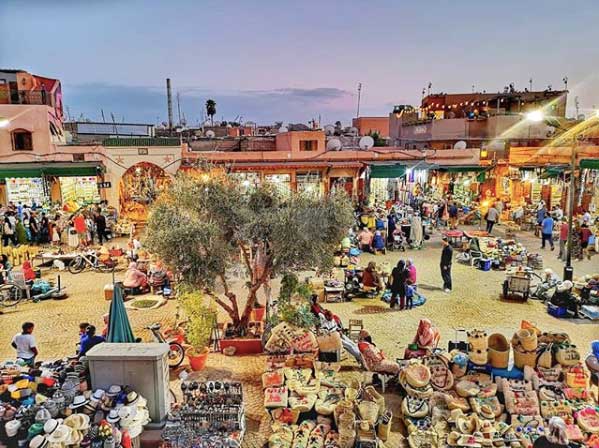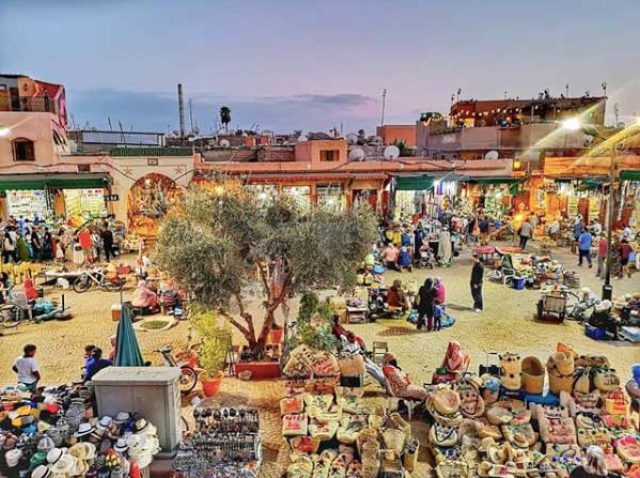 The best holidays to Morocco from Dublin should include visiting Chefchaouen, Fez, the Desert, and Marrakesh. These are Must-see places that no one can skip. However, due to the long distance in the Desert, you cannot see all these if you have a holiday for less than 10 days. Otherwise, you are going to spend your whole vacation on the car jumping from one place to another. Consequently, you won't experience the real Morocco.
10 Day Holidays in Morocco
For 10 days, we have created 3 different itineraries. 2 starts in Casablanca, and 1 starts in Marrakesh. Below you find the difference between the 3 itineraries:
10 days tour from Casablanca: this tour is designed for travellers who like to travel in a relaxed pace. The tour excludes Essaouira from the itinerary so that you spend more time in the desert.
10 Days in Morocco Starting in Casablanca is created for travelers who which to travel fast and discover many points in a short time. The tour includes Essaouira.
Short Breaks in Morocco
There are many short holidays in Morocco that can range between a week to 3 days. You can CHECK OUR MOROCCO TOURS to have a better idea.
For a short holiday, we advise you to fly to Fez or Marrakesh. Heading over to the Desert from there is easy so that you won't waste time traveling from Casablanca to Fez or Marrakesh.
In addition, we advise you to "fly-in" and "fly-out" from 2 different cities. So if you fly to Marrakesh, then you fly out from Fes. In this way, you make your itinerary from Marrakesh to Fes via the desert and you won't be obliged to come back to Marrakesh. The same rule applies to Fez.
Finally, in case you didn't find what you are looking for in our website, you can just email us and we will do our best to help you.