Wondering what to see in Morocco in 5 days? The fact is that there are a lot of things to see.
Morocco is a wonderful country with countless tourist attractions. In addition, the country is divided into two main parts, the north and the south. All of them are beautiful and present a memorable experience.
However, you cannot see both parts in just 5 days. You need al least 10 days to do so
In this short article, we are going to present two itineraries and you choose the one you like.
What to see in Morocco for 5 days?
For short term travelers, we highly advise booking a flight to Fez or Marrakesh; These two cities are located in the center of Morocco and you can see much more in just 5 days.
If you like to visit the south of Morocco; then, the best travel destination would be Marrakesh; however, if you target the north, Fez would be the best choice.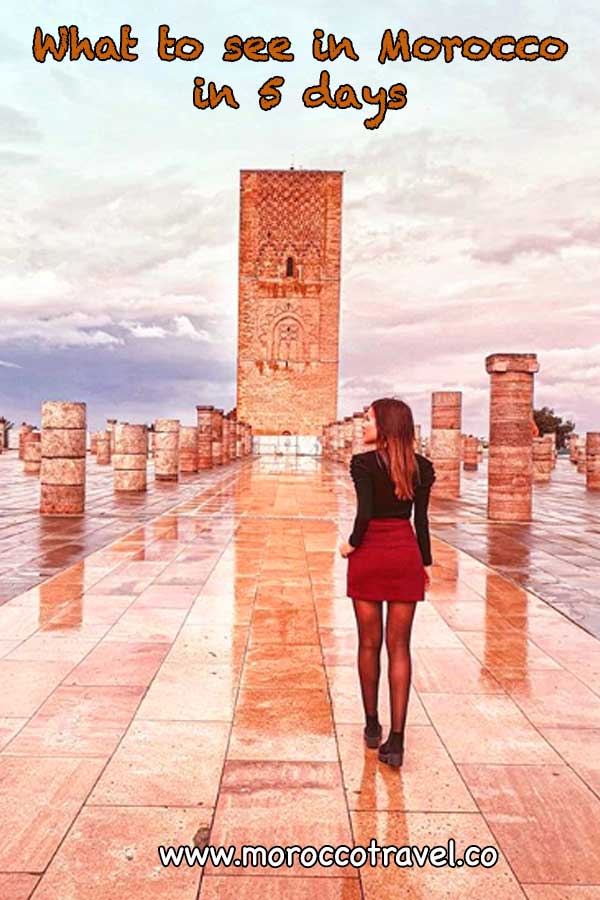 What to see in Morocco in 5 days starting from Marrakesh?
When you start 5 days in Marrakesh, you will see the following places:
Marrakesh: most visited city in Morocco

Ait Benhaddou: UNESCO site used as a backdrop for multiple Hollywood movies

Ouarzazate: Fortified Kasbahs and Atlas Studio, nicknamed Hollywood of Africa.

Fez: oldest surviving city in the world
Itinerary: 5 day Morocco tours from Marrakesh
Day 1: Marrakesh city tour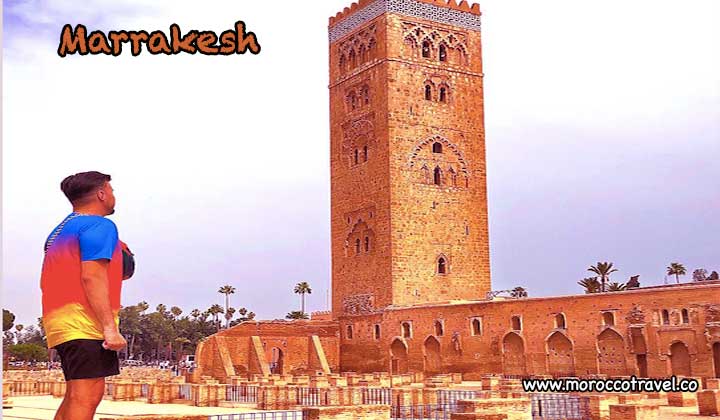 Wondering what to see in morocco in 5 days? here is what to see!
The first thing is to visit the city of Marrakesh. You will have a guided tour in this amazing and enchanting city.
During the day, you will be accompanied with our local guide. You will visit the Medina Souk, Koutoubia Mosque, Majorelle Garden, Bahia Palace, Jamma El Fna, Saadian Tombs…etc.
At night, you will experience another dimension of life in Jamma EL Fna Square, you will see a lot of bizarre things including snake charmers, magicians, comedians, musicians, and a lot of different shows.
Day 2: Marrakesh to Ait Benhaddou and Ouarzazate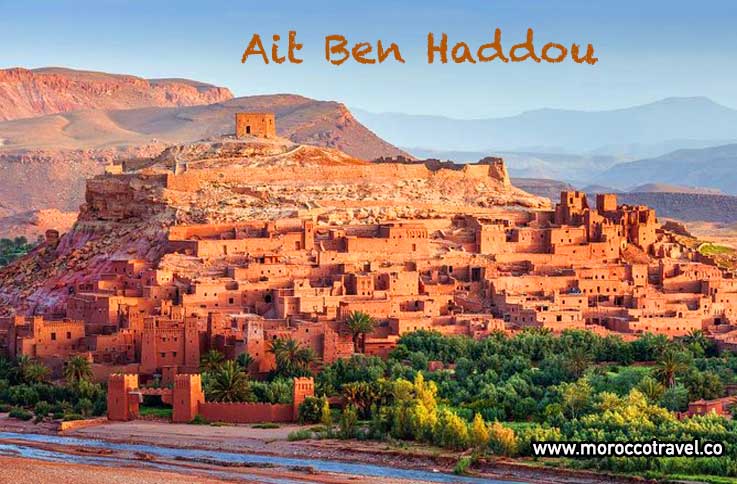 In this day, you will be familiar with the sense of deja vu. Why? because you will see a lot of places that you have seen before in some famous movies. for sure, you must have seen at least one of the most popular movies; then, don't be surprised! let us present the places.
Ait Benhaddou: This fortified site has been featured in many famous movies like Gladiator, The Mummy, Lawrance of Arabia, and others. In addition to the movies, the site also used as a backdrop in many series including Game of Thrones, Prison Break and Sex and the city.
You will discover this site with our local guide. You will take pictures and you will enjoy and delicious lunch there.
Another interesting place to visit is:
Atlas Studio: which is a film studio located 3 miles west of the city of Ouarzazate. Measured by acreage, it is the world's largest film studio. This studio is currently one of the best places to see in Morocco for various reasons, one of which is the surrounding nature that can mimic the natural environments of many countries. Some scenes that were believed to be shot in Egypt are in fact shot there.
Day 3: Merzouga, the 3rd interesting place to see in Morocco in 5 days.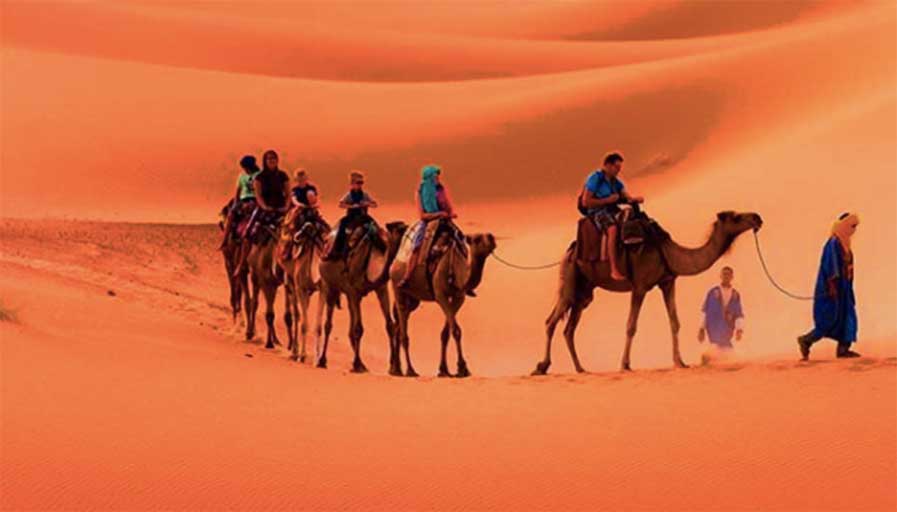 One of the best places to see in Morocco in 5 days includes the Merzouga Desert. Merzouga doesn't offer you only what to see, but also an experience.
In Merzouga, you will see the beautiful desert of Morocco. In addition, you will enjoy sunset and sunrise. Hold on! we don't talk about usual sunset and sunrise that you see every day, but another experience in the desert.
Sunset and sunrise in the desert is unique and dissimilar to any sunset in the world. When the light shadows of the sun touch the golden sands of the desert, they give a majestic view that you will never forget.
Furthermore, you will ride camels for over one hour. The camels will take you to the heart of the desert where you will spend a night. So don't forget to bring a good camera.
By the time you arrived, you will have been welcomed by meant tea from your host. There, no modernity, no cars, no electricity, only the sounds of the desert and wildlife.
You will enjoy traditional Berber music with a delicious dinner.
Day 4: a long journey from Merzouga to Fez.
In this day, you will travel to Fez, another enchanting city in Morocco. On the way, you visit
On the way, you cross Azrou, a Berber village in the Middle Atlas Mountains. Here you'll stop to see some Barbarian apes in the famous Cedar forest. You can even feed them since they are used to humans.
Later, you drive to Ifrane, or what is called "the Switzerland of Morocco." You stop to take pictures before you arrive to Fez where stay for a night.
Day 5: Fez is one of the top cities to see in Morocco in 5 days.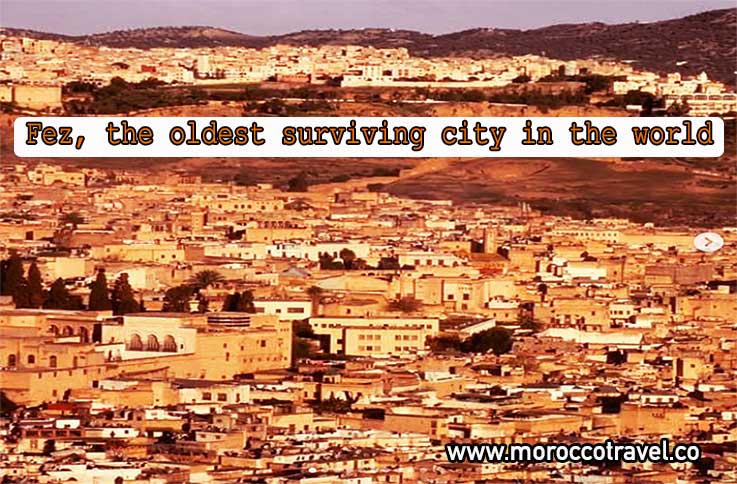 One of the best things to do in Morocco in 5 days is to see Fez. This charming city offers much magic and exoticism than any other city in Morocco. It is the cultural city of Morocco and the oldest surviving city in the world. It contains the oldest and the first university in the world, the Quranic university called al-Qarawiyyin. The city is rich in terms of history and monuments.
The whole day will be devoted to discovering the city with our local guide. You will explore both medina quarters, Fes el Bali and Fes el Jdid. You will walk in the narrow alleys of Talâa Kebira and through the old souks (markets). Moreover, you will visit the Chouara Tannery and its many dye-filled stone pots where the men at work use centuries-old techniques.
If you want to book this tour, please email us.
What to see in Morocco in 5 days starting from Fez?
We think that the ultimate tour is the first one; however, if you have done it before, then we ask to think about this one. It targets the north of Morocco. The main things to see in 5 days includes:
Fez, the oldest and exotic city of Morocco

Meknes: another imperial city of Morocco

Volubilis: a thriving city during the Roman empire.

Chefchaouen, called also Instagram city. If you are a photographer, the Chefchaouen is the perfect destination.

Rabat: capital of Morocco.
Itinerary: 5 day Morocco tours from Fez
Day 1: Fez city tour
As described before, in the fisrt day of your tour, you make a visit to the most important places in the lovely city of Fez.
Day 2: A journey from Fez to Meknes & Volubilis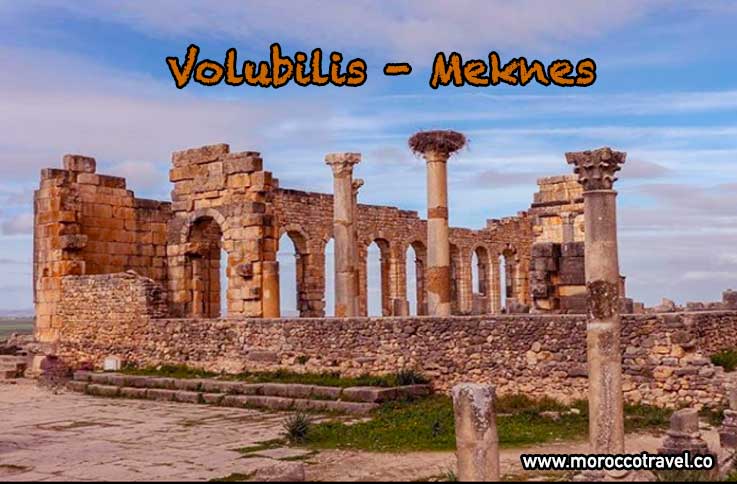 What to see in Morocco in 5 days? here is what to see: Volubilis and Meknes
Meknes is one of the 4 imperial cities of Morocco and Volubilis was its rich and unforgettable history.
Volubilis: It was a thriving city of the Roman empire and one of its remote capitals. The city attracts many tourists over time due to its unique history.
The city developed from the 3rd century BC onward as a Berber, then proto-Carthaginian, settlement before being the capital of the kingdom of Mauretania. It grew rapidly under Roman rule from the 1st century AD onwards.
The city fell to local tribes around 285 and was never retaken by Rome because of its remoteness and indefensibility on the south-western border of the Roman Empire. It continued to be inhabited for at least another 700 years, first as a Latinised Christian community, then as an early Islamic settlement. In the late 8th century it became the seat of Idris ibn Abdallah, the founder of the Idrisid dynasty and the state of Morocco.
Meknes City: After seeing Volubilis, you will visit the main attractions in Meknes city. They include the holy city of Moulay Idriss, Bab al-Mansour gate, Moulay Ismail Mausoleum, Imperial City, and Lahdim Square. In the evening, you will enjoy Lahdim Square, a small copy of Jamaa El Fna of Marrakesh.
Day 3: seeing the pearl blue city of Morocco, Chefchaouen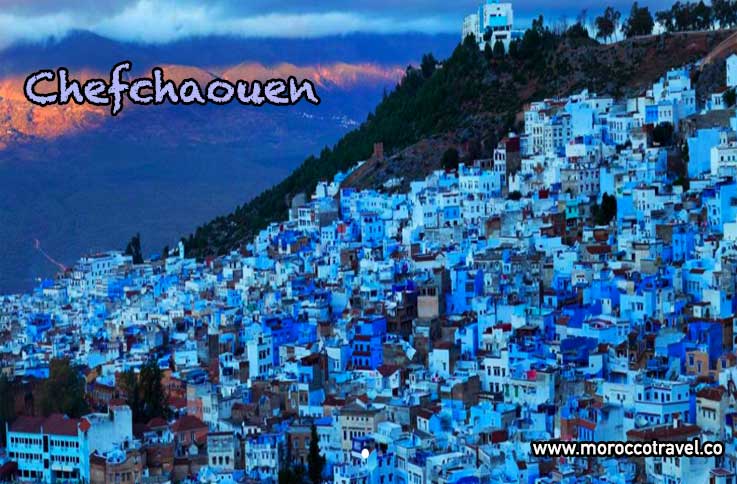 If you are a photographer, there are several surprises here. Chefchaouen is the most beautiful city ever. It is nicknamed the pearl city of Morocco and some call it the Instagram city.
Chefchaouen is unique in its architecture and its color. All the buildings are blue colors. Though it is small, its reputation is big.
Its streets aren't large, they're not full of shops, the crowds aren't thick and there's less mania to the atmosphere. It's a relaxing place where the lack of sights is part of the charm. In the town itself, it's easy to spend a day wandering and trying to find new angles of blue. Up and downstairs, along the main arteries, through the small winding passageways.
You will spend half a day and a night in this charming city before you travel to Rabat in the next day.
Day 4: seeing the magnificent city of Rabat
After Breakfast in Chefchaouen, you travel to Rabat.
Rabat is also one of the best places to see in Morocco in 5 days. It is one of the 4 imperial cities of Morocco.
You will visit the magnificent Kasbah of Oudayas, Hassan Tower with its uncompleted minaret, the Mausoleum of Mohamed V and the Hassan 2 as well as the Chellah Necropolis.
At night, you can have dinner in a lux restaurant or hang out in the car with your driver.
Day 5: Visiting the economic capital of Morocco
The last day will be devoted to seeing the biggest city in Morocco. Casablanca is a modern city and reflects European civilization. Even the culture there is different from the most parts of Morocco. People are more open and willing to talk.
You will have a tour in the city to see its richness. Then, you head over the Hassan II mosque and you make a visit to this biggest Mosque in Africa. It is the only Mosque in Morocco in which non-muslims are allowed to go inside. The architecture and the design of this Mosque make it unique and desirable.
If you want to book this itinerary, please contact us here.